1.5 Inch Ratchet Straps With Wire Hooks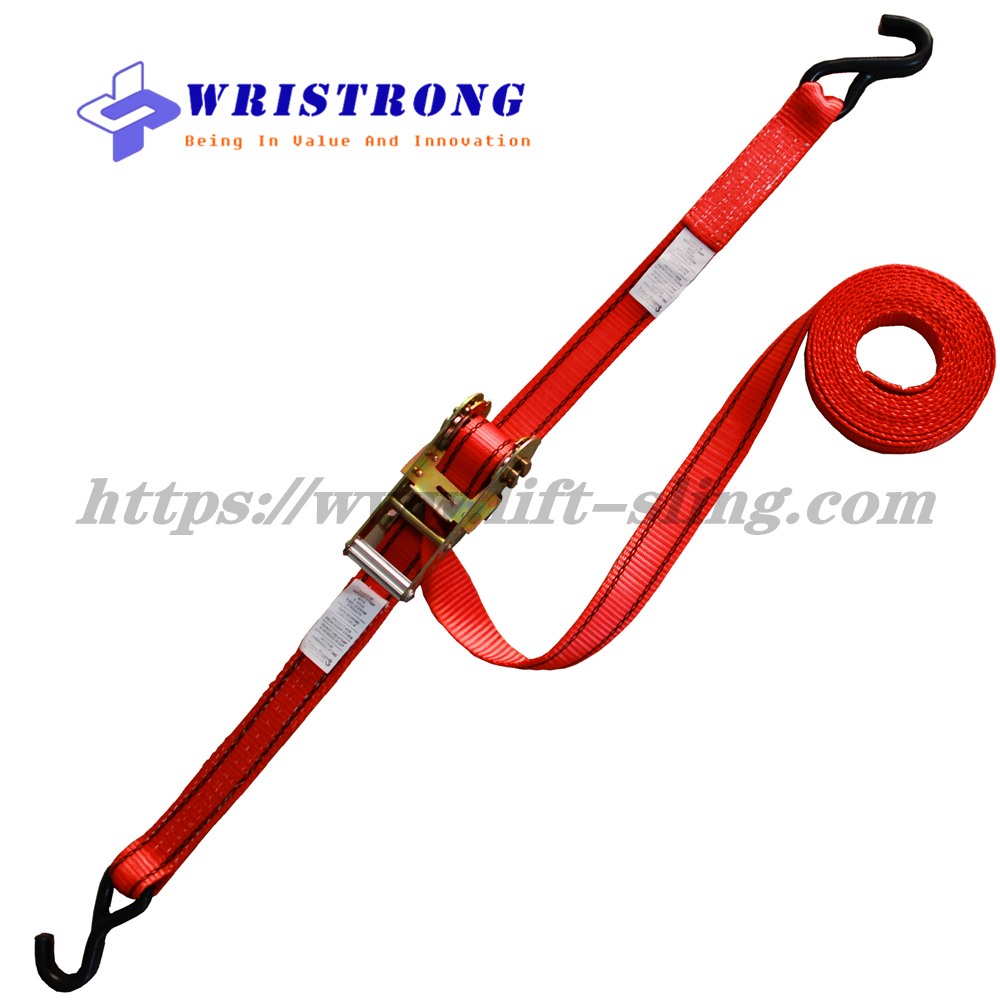 Please Note:
If you have any special requirements, you can contact us bellow and we will reply you as soon as possible.
Request A Quote
Product Specification:
1.5" Ratchet Straps | Tie Down Straps | Made To Order From China
These 1.5" wide ratchet straps come with 4500lbs whole assembly break strength and work load limit 1500lbs. Standard length of the whole ratchet assembly will be 15', but if you would like to order any special length, we can produce as well.
All the parts of our ratchet straps are manufactured by ourselves, which make us easy to control the qualities of  ratchet straps. We have our own ratchet tie down straps woven workshops, ratchet and hooks workshops, stitching workshops, packing workshops,etc. So You can buy from us with factory direct prices and high quality guaranteed.
Description Of  1.5" Ratchet Straps With Wire Hooks :
Item Name: 1.5" Ratchet Straps With Wire Hooks
China H.S Code: 5609000000
Material:Polyester webbing + Mn steel
Ratchet:   Alumium handle 4,500lbs M.B.S Ratchet
Hooks: 4,500lbs M.B.S  J hooks(electrophoresis black or zinc plate yellow )
Webbing belt: 1.5" wide with M.B.S 7,500lbs
W.L.L of Whole Assembly: 1500lbs
Safety Factor: 2:1 on ratchets and hooks, 3:1 on webbing belts
Length:  1.6' fix end+ 13.4' long end (or As requested)
Color: Red with two black stripes on webbing belt surface.
Standard: ASTM B30.9,WSTDA
Characteristic:Fast tension and release,wearable, factory direct cheap prices.
Package: Carton boxes+pallets
Wristrong China also manufactures one piece (endless) assembly for use without end fittings.The tie down strap can be stenciled with customer's company name or logo,and the color,length,width etc can be made to client's special requirements.
---
Other Sizes And Different End Fitting For USA Style Ratchet Tie Down Straps Available From Us As bellow:
1" RATCHET & CAM BUCKLE TIE DOWN STRAPS
ITEM NO.
BUCKLE
LENGTH
END FITTING
M.B.S.
RSFH110
RATCHET
10' or As requested
FLAT HOOK
1,000LBS
CSFH110
CAM
10' As requested
1,000LBS
RSSH110
RATCHET
10' As requested
STAMPED SNAP HOOK
2,100LBS
CSSH110
CAM
10' As requested
1,000LBS
RSWH110
RATCHET
10' As requested
DOUBLE J HOOK
2,100LBS
CSWH110
CAM
10' As requested
1,000LBS
RSHK110
RATCHET
10' As requested
HOOK & KEEPER
2,100LBS
CSHK110
CAM
10' As requested
1,000LBS
RSOH110
RATCHET
10' As requested
S HOOK (Vinyl Coated  or Zinc Plated)
2,100LBS
CSOH110
CAM
10' As requested
1,000LBS
RSEL110
RATCHET
10' As requested
ENDLESS
2,100LBS
CSEL110
CAM
10' As requested
1,000LBS
2" RATCHET TIE DOWN STRAPS
​
ITEM NO.
STRAP
END FITTING
M.B.S.
RSDJ227
2" X 27'
DOUBLE J HOOK
10,000LBS
RSDJ230
2" X 30'
RSFH227
2" X 27'
FLAT HOOK
10,000LBS
RSFH230
2" X 30'
RSGH227
2" X 27'
CHAIN GRAB HOOK
10,000LBS
RSGH230
2" X 30'
RSSH227
2" X 27'
TWISTED SNAP HOOK
10,000LBS
RSSH230
2" X 30'
RSCH227
2" X 27'
CHAIN ANCHOR ASSEMBLIES
10,000LBS
RSCH230
2" X 30'
RSDR227
2" X 27'
DELTA RING
10,000LBS
RSDR230
2" X 30'
RSLFH227
2" X 27'
FLAT HOOK
5,000LBS
RSLFH230
2" X 30'
RSLDR227
2" X 27'
DELTA RING
5,000LBS
RSLDR230
2" X 30'
2" LOGISTIC TIE DOWN STRAPS
ITEM NO.
STRAP
END FITTING
BUCKLE
M.B.S.
WLRB212
2" X12'
E Track Fitting
RATCHET
  3,000LBS
WLRB216
2" X16'
WERB212
2" X12'
3 Piece End Fitting
RATCHET
3,000LBS
WERB216
2" X16'
WLCB212
2" X12'
E Track Fitting
CAM BUCKLE
2,500LBS
WLCB216
2" X16'
WBCB212
2" X12'
Butterfly Fitting
CAM BUCKLE
1,250LBS
WBCB216
2" X16'
3" /4" RATCHET TIE DOWN STRAPS
​
ITEM
STRAP
END FITTING
M.B.S.
RSDJ327
3" X 27'
DOUBLE J HOOK
15,000LBS
RSDJ430
4" X 30'
RSFH327
3" X 27'
FLAT HOOK
15,000LBS
RSFH430
4" X 30'
RSGH327
3" X 27'
CHAIN GRAB HOOK
15,000LBS
RSGH430
4" X 30'
RSCH327
3" X 27'
CHAIN ANCHOR ASSEMBLIES
15,000LBS
RSCH430
4" X 30'
RSFT327
3" X 27'
FORGED TRIANGLE
15,000LBS
RSFT430
4" X 30'
WINCH STRAP
ITEM NO.
STRAP
END FITTING
M.B.S.
WSFH227
2" X 27'
FLAT HOOK
10,000LBS
WSFH230
2" X 30'
WSFH327
3" X 27'
FLAT HOOK
12,000LBS
WSFH330
3" X 30'
WSFH427
4" X 27'
FLAT HOOK
15,000LBS
WSFH430
4" X 30'
WSFT327
3" X 27'
FORGED TRIANGLE
12,000LBS
WSFT330
3" X 30'
WSFT427
4" X 27'
FORGED TRIANGLE
15,000LBS
WSFT430
4" X 30'
WSGH327
3" X 27'
CHAIN GRAB HOOK
12,000LBS
WSGH330
3" X 30'
WSGH427
4" X 27'
CHAIN GRAB HOOK
15,000LBS
WSGH430
4" X 30'
WSCH327
3" X 27'
CHAIN ANCHOR ASSY
12,000LBS
WSCH330
3" X 30'
WSCH427
4" X 27'
CHAIN ANCHOR ASSY
15,000LBS
WSCH430
4" X 30'
WSDJ327
3" X 27'
DOUBLE J HOOK
12,000LBS
WSDJ330
3" X 30'
WSDJ427
4" X 27'
DOUBLE J HOOK
15,000LBS
WSDJ430
4" X 30'
WSSE327
3" X 27'
SEWN EYE
12,000LBS
WSSE330
3" X 30'
WSSE427
4" X 27'
SEWN EYE
15,000LBS
WSSE430
4" X 30'
TOW STRAP
ITEM NO.
STRAP
END FITTING
M.B.S.
TSHH220
2" X 20'
EYE HOOK
10,000LBS
TSEE220
2" X 20'
FLAT EYE
10,000LBS
TSEE320
3" X 20'
13,000LBS
TSEE420
4" X 20'
15,000LBS
---