Beam Clamps-JG Series
Please Note:
If you have any special requirements, you can contact us bellow and we will reply you as soon as possible.
Request A Quote
Product Specification:
Beam Clamps-JG Series | Lifting Clamp | China Wirstrong® Supplying
The universal Beam clamps are manufactured from fully forged parts to ensure longevity. They are fitted with a hinged hoisting eye moving in all directions which enables the user to place and lift the load from any directions. The lifting clamps are also fitted with special hook-up facilities to enable easy fitment of the clamp in a horizontal position.
The Features Of Beam Clamps-JG Series
-Designed for construction,commercial and industrial vertical or horizontal rigging operations.
-Clamp jaw is desinged to reduce flange stree by load away from I-Beam  flange edge.
-Adjust with ease to fit a broad range of wide-flage H or standard I beams
-Built-in Suspension rod provides lower headroom.
-Mount hoists or lift beams with portable light weight clamp.
-Robust all-steel construction with safety operation.
-Compact size with light, easy to install with minimum headroom,supper-quick adjustment to any grider withth in range.
-Manufactured to EN13157, other standards also available on request.
Introduction Of  Lifting Beam Clamps
Hanger: a frame used to suspend a workpiece and cause an electric current to the workpiece in electroplating and related operations. Forms of the verfical lifting clamp: There are lots of forms of hanging, there is general purpose that can apply a few kinds of common parts to be lifted, also have the hang tool that is special for large quantities of parts.For the complex geometry of the plating, some should be equipped with an auxiliary anode, auxiliary cathode or shielding plate. Design principle: The basic principle of hook design : enough mechanical strength and good electrical conductivity, light weight, easy loading and unloading, parts and hook contact firmly.
Specification  on Beam Clamp-JG Series: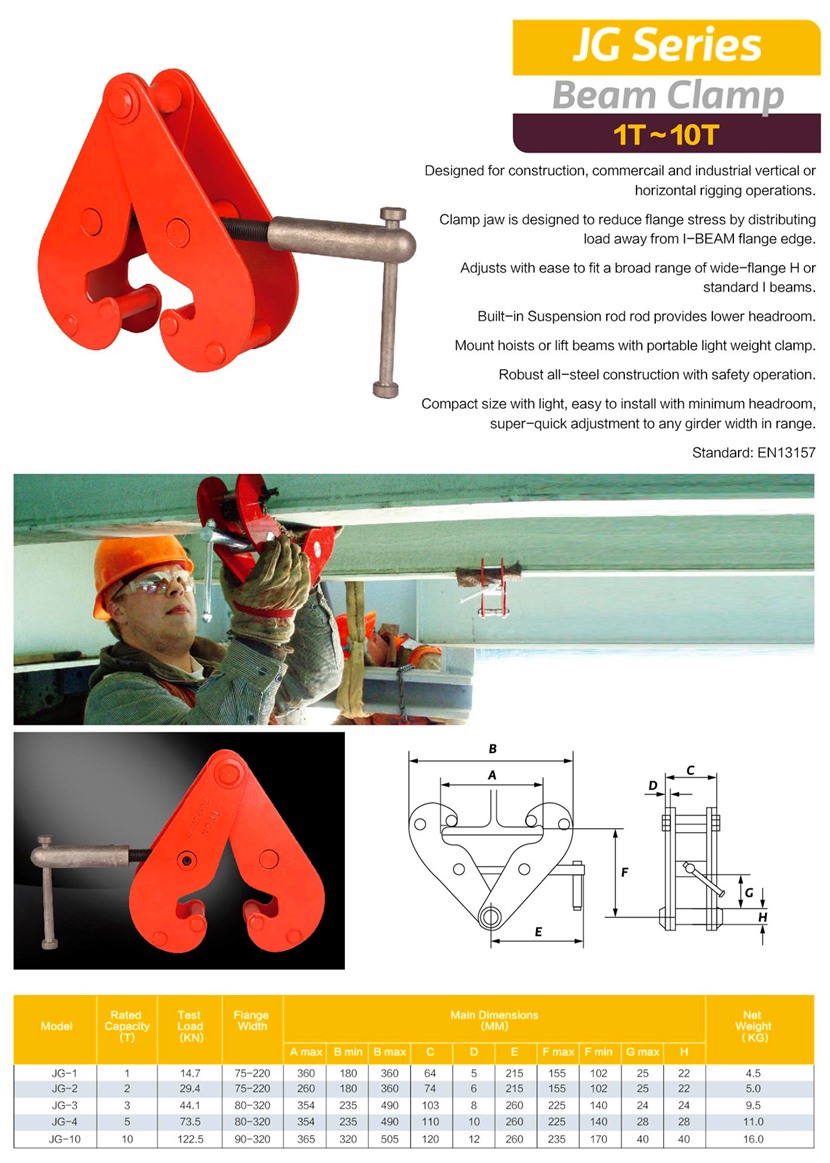 Advantages:
1. Adjustable to any beam width, simply by adjusting the number of collars.
2.  Suitable for lifting and transport of steel plates and structures from all position ( horizontal. Vertical and sidelong)
3. Manufactured from high-quality carbon steel.
4. Clamps are equipped with a safety mechanism, ensuring the clamp does not slip when lifting force is applied and when as in open position, as well as in open position.
5. The wheels are made to fit any shape of the beam.
6. Robust all-steel construction with safe operation.
7. Compact size with lightweight.
8. Easy to install with minimum headroom.