Bungee Cords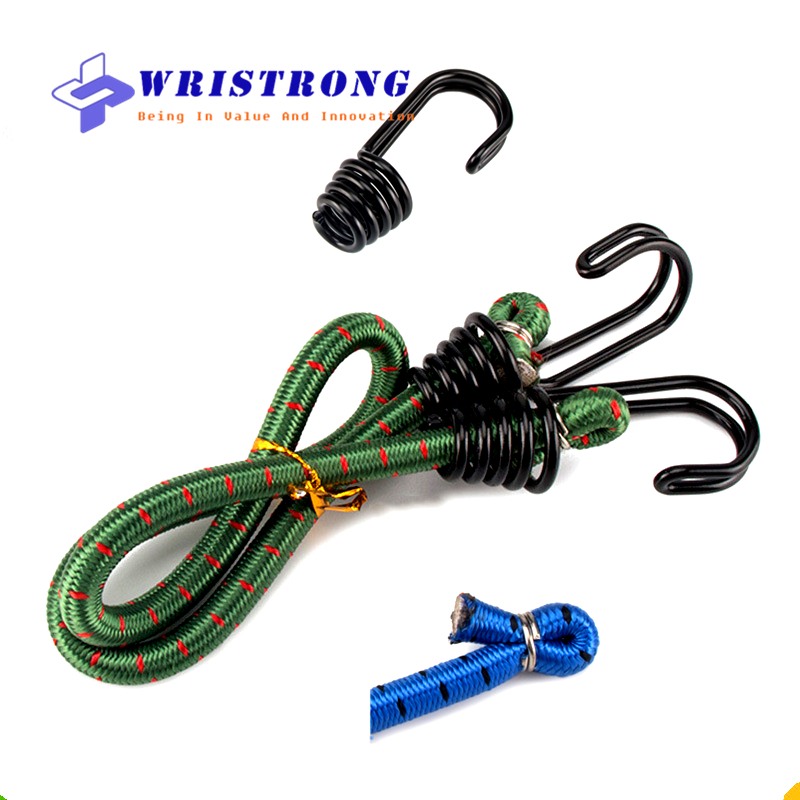 Please Note:
If you have any special requirements, you can contact us bellow and we will reply you as soon as possible.
Request A Quote
Product Specification:
Bungee Cords-Rubber Straps | China Wristrong  Supplying
A bungee cord (sometimes spelled bungie), also known as a shock cord, (Occy strap / Octopus strap in Australian co-mmon usage) is an elastic cord composed of one or more elastic strands forming a core, usually covered in a woven cotton or polypropylene sheath. The sheath does not materially extend elastically, but it is braided with its strands spiraling around the core so that a longitudinal pull causes it to squeeze the core, transmitting the core's elastic co- mpression to the longitudinal extension of the sheath and cord. Specialized bungees, such as some used in bungee jumping, may be made entirely of elastic strands..
Quality bungee nets have ABS plastic hooks that can be removed and replaced, allowing you to adjust their location for optimal placement. Since they're made of plastic, they won't do any damage to your bike's painted or metal surfaces.best quality and reasonable price will be provided.
Brief Details Of Wristrong Bungee Cords:
-Usage: binding cargos used in motorcycle,bicycle.
-Shape:Round&Flat.
-Inner material: rubber latex thread.
-Outer material:PP Yarns.
-Hook:adjustable hook & Steel hook, or ABS hook.
-Cord length:as your request.
-Cord color:as your reques.
-Certification: CE,GS.
-Quality bungee cord material latex from Thailand 100% crude rubber.
-Available diameter: 4-12mm.
-Samples time: 1-3days.
-Delivery: 15-20days or depend on the whole order.
-Package:PVC bag,blister bag,plastic barrel.
-Export Packing:blister packing /outer packing:carton+pallet.
.
Wristrong Bungee Cords Specification: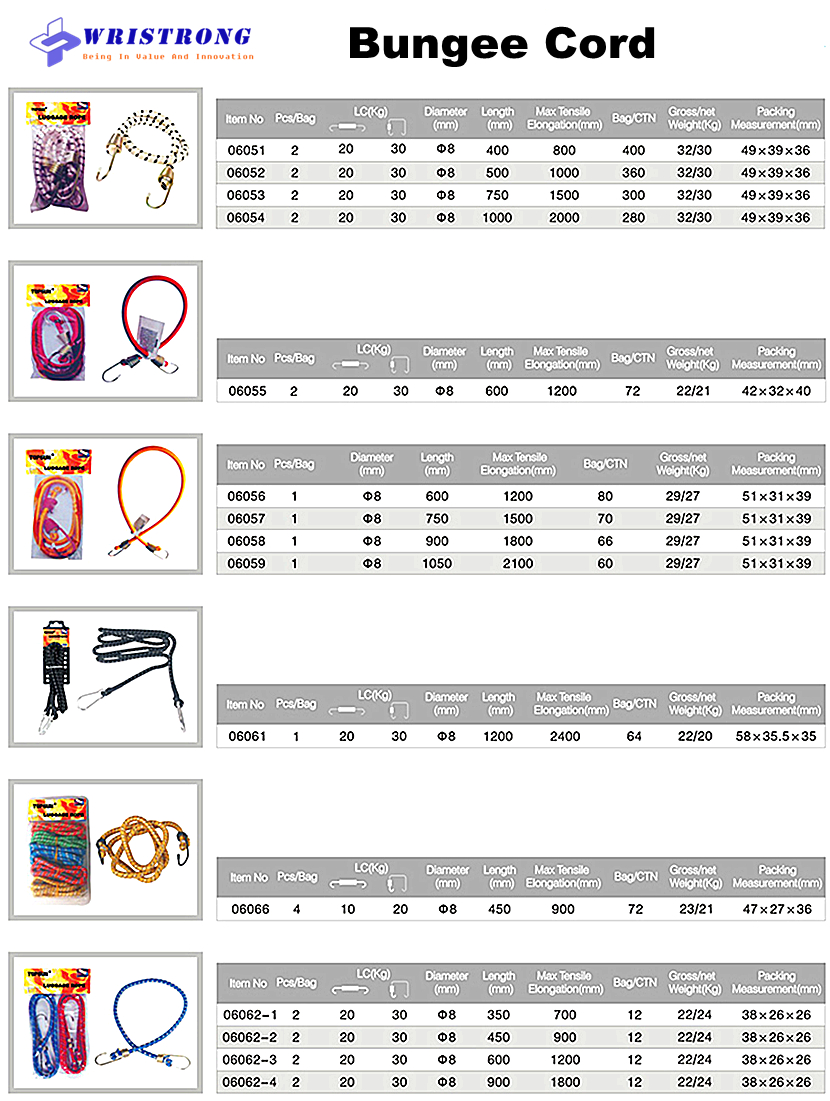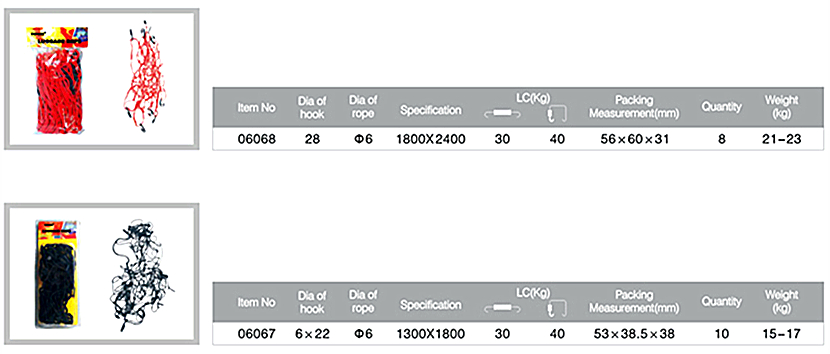 PS: Please contact our sales team if you cann't find the models you like or have any OEM design to carry out by us.
Today, bungee cords are most often used to secure objects without tying knots and to absorb shock. Inexpensive
bungee cords, with metal or plastic hooks on each end, are marketed as a general utility item.  These can be an individual strap, or a set of four hooked straps held together by a metal ring allowing the occy strap to secure items around various tie points, for example a suitcase to a car roof rack. Extensions of the concept are available as a coarse net of bungee cords with metal or plastic hooks around the periphery, for securing irregularly shaped loads of luggage and cargo on the backs of pickup trucks, roofs of cars, and so on.
Buy Heavy Duty Tie Down Lashing Straps Or Woven Lashing Strapping, please
click the links bellow: