Car Trailer Tie Down Straps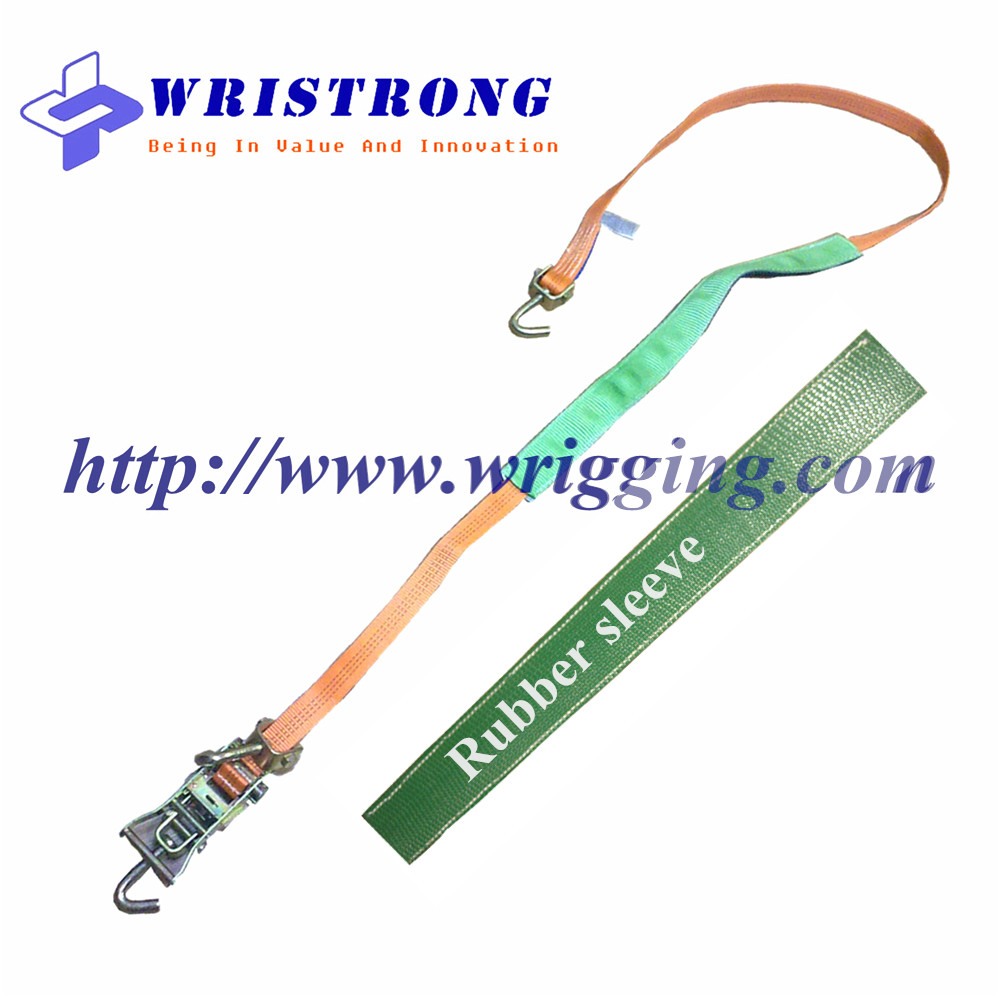 Please Note:
If you have any special requirements, you can contact us bellow and we will reply you as soon as possible.
Request A Quote
Product Specification:
Car Trailer Tie Down Straps | Car Hauler Straps | Wristrong Sales
Car trainler tie down straps / car transport straps / car hauler straps are developped from common ratchet tie down straps. The straps are used to restain cars, Atvs, go carts, motorcycles,etc from moving on the trailers or haulers during transportation. The 80cm long (This length is optional) strong rubber protective sleeve can not only protect the new tires from hurting, but also add extra friction strength to prevent the movement. The special desigend swivel hooks can be easily hooked onto decks of the trailers or haulers. Usaully the work load limit for car trailer tie down straps should be at least 1,500kgs ( 3,300lbs). Currently work load limits available from Wristrong China are 1500kgs (3,300lbs), 2,000kgs (4,400lbs) and 2500kgs (5,500lbs).
China Wristrong, as one of leading manufactuers and suppliers in manufacturing car trainler tie down straps / car transport straps / car hauler straps in China, is producing and selling these  car restraint systems according to European standard EN12195-2, or Australian standard AS/NZS4380.2001 or USA ASTM B30.9,WSTDA standard. Wristrong China can manufacture car transport straps according to customers' special using requirements. For example, different ratchets; different colours, width, length, break strengths, and stiffnesses of the webbing belts. You can refer to our professional  Sales Team for your detailed requests.
Description Of Car Trailer Tie Down Straps WLL 2000KGS:
Item Name: Car Trailer Tie Down Straps 2000kgs
China H.S Code: 5609000000
Material:Polyester webbing + Mn steel
Ratchet:   Alumium handle 4000kgs M.B.S Ratchet
Hooks: 4000kgs M.B.S specil swivel hooks
Webbing belt: 50MM wide with M.B.S 6000KGS + 80cm long strong rubber sleeve
W.L.L of Whole Assembly: 2000kgs
Safety Factor: 2:1 on ratchets and hooks, 3:1 on webbing belts
Length:  0.5m fix end+8m long long end (or As requested)
Color: Orange with four black stripes on webbing belt surface.
Standard: EN12195-2
Characteristic:Fast tension and release,wearable, factory direct prices.
Package: Carton boxes+pallets
Wristrong Industry is manufacturing 25mm-100mm wide Ratchet tie down, acc to EN12195-2 for European market, our ratche tie downs  are made of durable resin-coated,UV-resistant polyester webbing strap,and various heavy duty corrosion resistant ratchet buckles and end fitting hooks. Different types of Wristrong EN12195-2 Standard ratchet tie downs avaiable bellow:
Ratchet Tie Downs Endless Type
---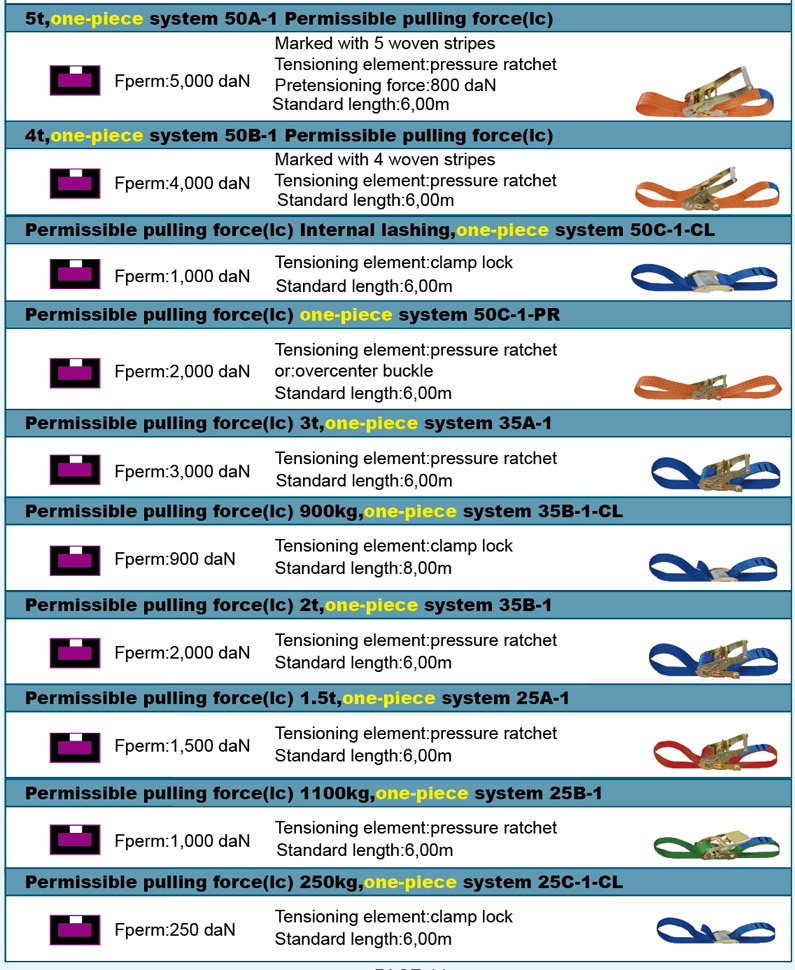 Ratchet Tie Downs 5T
---

Ratchet Tie Downs 4T
---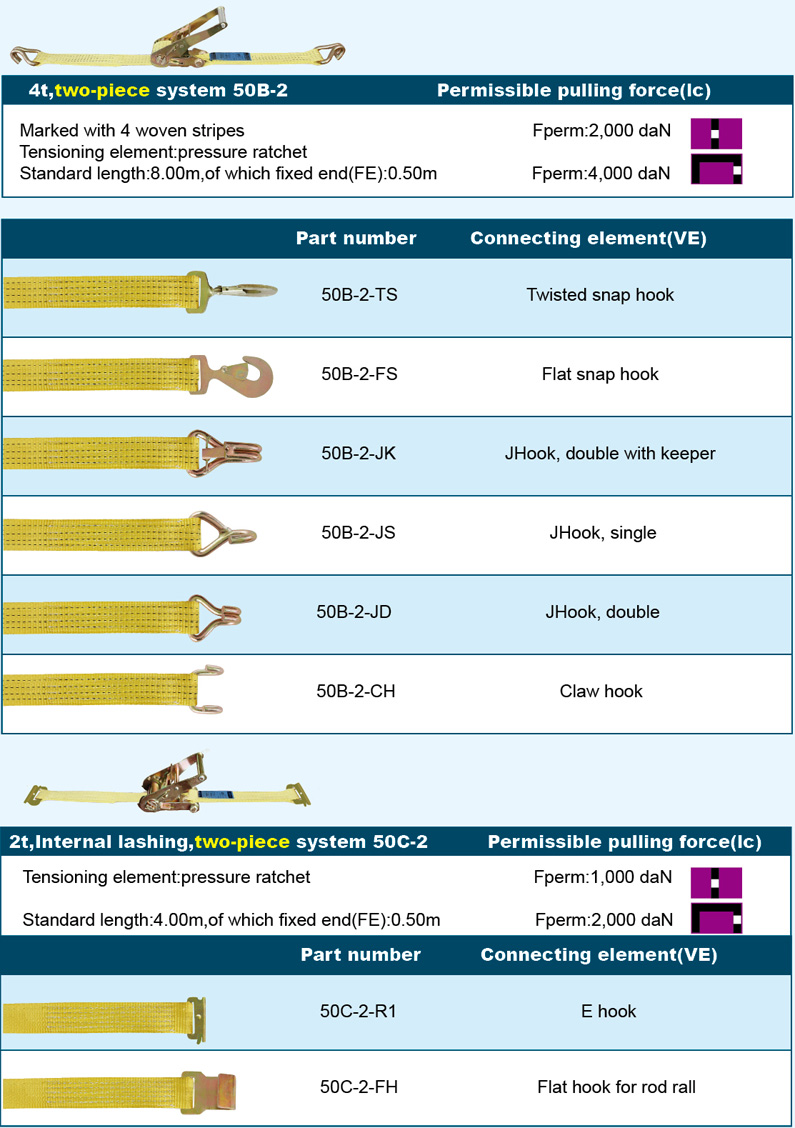 Ratchet Tie Downs 3T
---

Ratchet Lashing Straps
---