China Lifting Webbing Slings WLL 8 Ton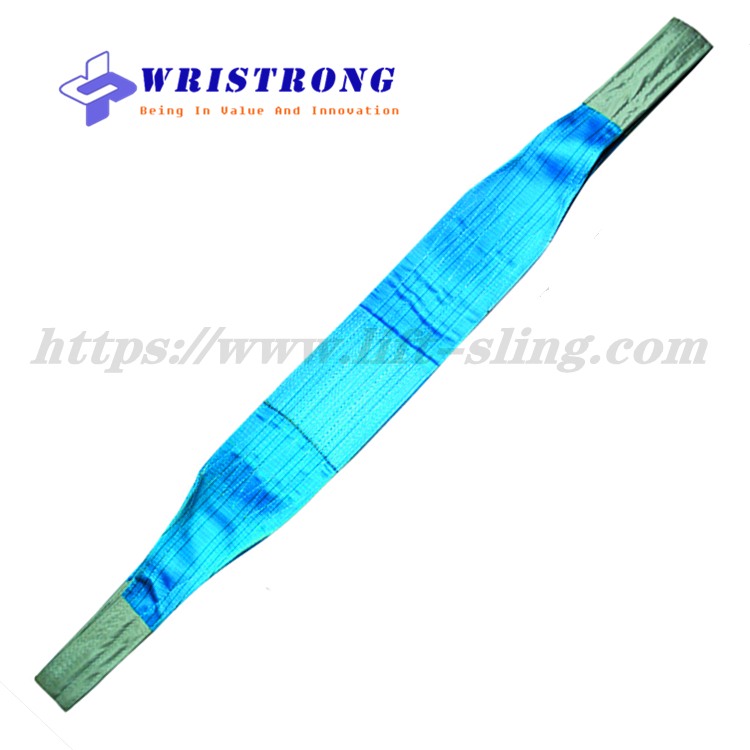 Please Note:
If you have any special requirements, you can contact us bellow and we will reply you as soon as possible.
Request A Quote
Product Specification:
China Lifting Webbing Slings | Lifting Slings WLL 8 Ton
China Wristrong, as one of the leading polyester lifting webbing slings and other lifting slings manufacturers in China, is manufacturing the polyester webbing slings 100% complying with the EN1492-1. For the lifting slings W.L.L ≤10Ton,  We will fulfill tensile strength tests before and massive production, to ensure the quality. For the lifting slings W.L.L > 10 Ton, we will carry out at least 2 times of W.L.L proof testing on each lifting slings we manufactured. Currently the maxium in-house strength test we can deal with  is 200 Ton, this could meet our daily orders production needs. Once the proof test strength exceeds our test machine limit for some special orders, we will send the slings to the local testing laboratory. Therefore you are assured with quality and safety to buy from us.
Technical Details of China Wristrong Lifting Webbing Slings WLL 8 ton.
-Materials: 100% high tensile polyester yarns
-Manufactured to BS EN1492-1.
-Colour: Green with two black stripes on webbing surface .
-Layer: Duplex
-Width: 240mm
-Safety Factor: 7:1, and safety factor 8:1 Acc. to AS 1353 also available.
-W.L.L: 8000kgs/8Ton
-M.B.S: 56,000kgs/56Tons
-Length: could choose special length base on special requirement.
-SGS Tensile strength test report available on request
-Proof Test available on request
-Real Break strength always exceeds that in theory.
-With protective eye loops on each end.
-One Year Quality Warranty On Factory Defects
-Traceable labels available on request.
-Proof test certificate for each sling.
-Other technical details like eye length, protective sleeve length and stitching area length could be provided upon request.
Specification On Wristrong  EN1492-1 Webbing slings: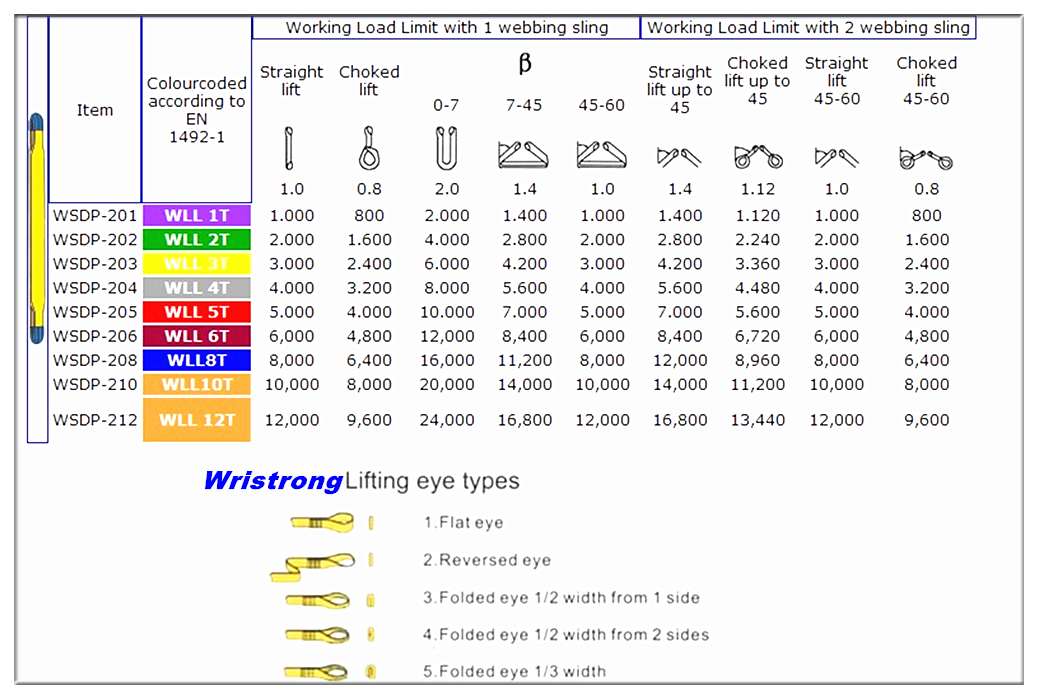 PS: Heavy lifting slings W.L.L capacities above 12tons will all come with orange colours and go without black stripes on the webbing surface. And the labelling, certificates and proof test rquirements should comply with EN1492-1 for sure.
China Wristrong has always been in pursuit of 100% customer satisfied quality, the principle has been run throughout every lifting slings production process. Zero Factory Defect is our target: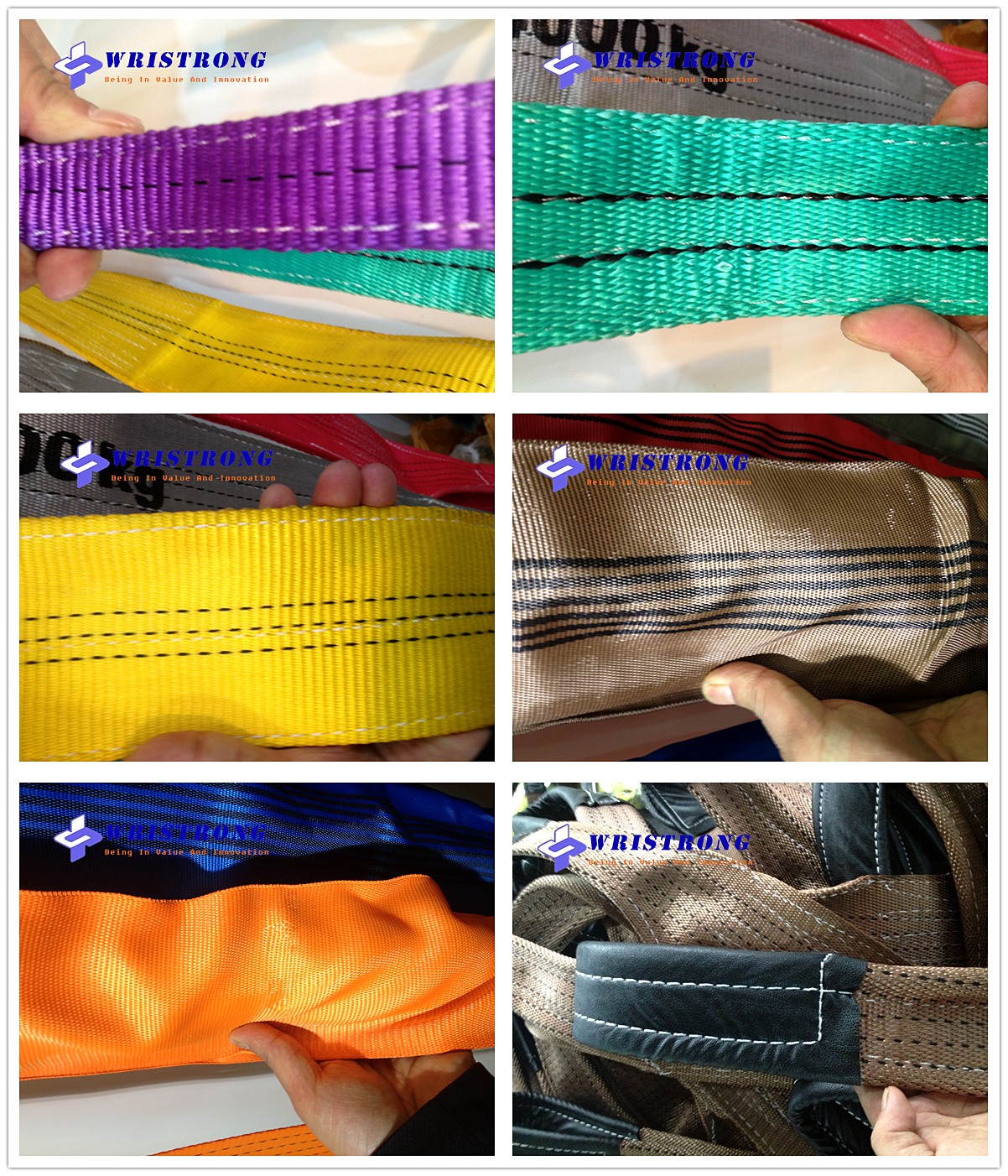 Webbing sling is made from high tenacity 100% polyester webbing with reinforced eye loops at both ends.It can be made from one layer to four layers,which we usually call Simplex webbing sling,Duplex webbing sling,Triplex webbing sling and Quadraplex.And the eyes can be made in- to Flat eyes,Twisted eyes,and Reversed eyes.Eye-eye webbing slings are versatile as they can be used in choker, vertical, or basket hitches.Polyester fabric has low elongation, so it's better able to hold the load without the risk of shocking.OEM service is also available. Currently Wristrong Industry is able to produce the webbing sling acc to EN1492-1 and AS 1353 upto 40T.
Other Related Lifting Webbing Slings: