Ergo Long Handle Ratchet Tie Down Straps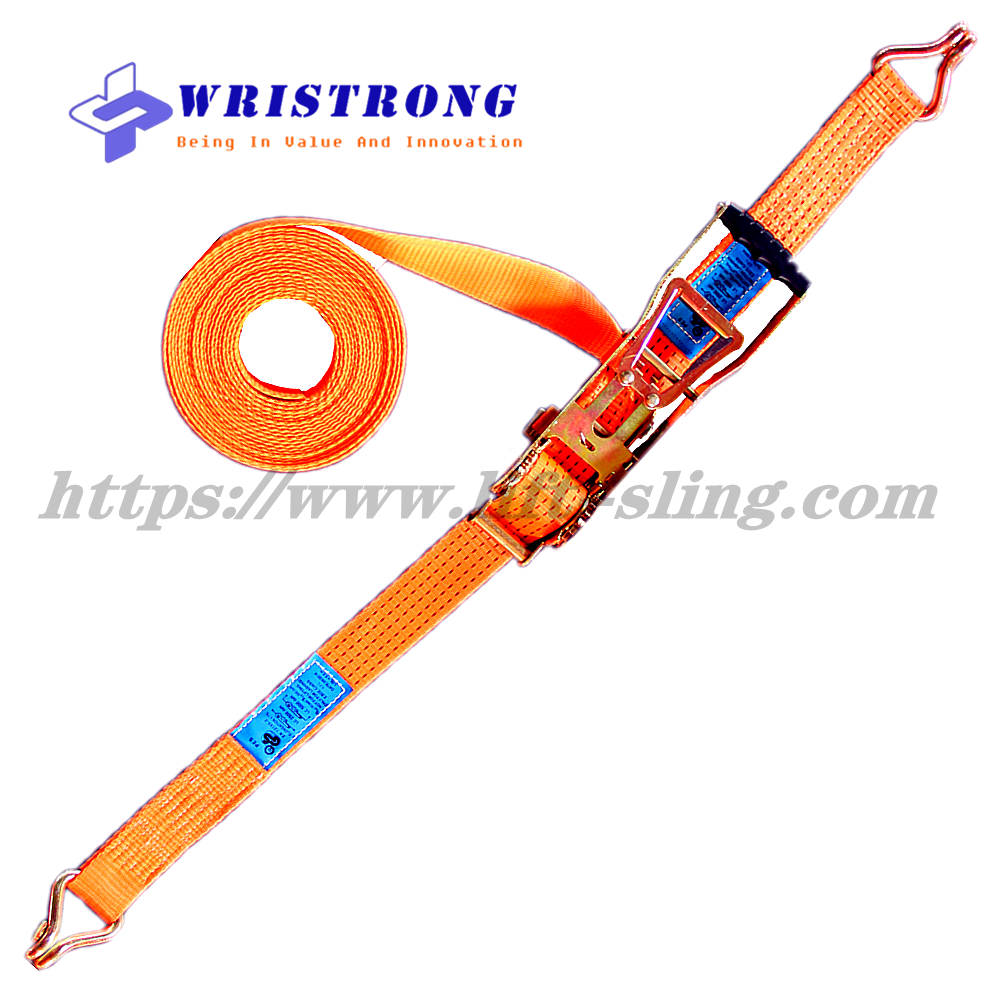 Please Note:
If you have any special requirements, you can contact us bellow and we will reply you as soon as possible.
Request A Quote
Product Specification:
Ergo Long Handle Ratchet Tie Down Straps | 300MM Long Lever Ratchet Tie Downs
These ergo long handle ratchet tie down straps come with ergonomic  300mm long leaver to make the tension process much easier compared with normal 5 tonne ratchets.  Beside easy lever, rather than pushing up the ratchet handle to tighten,  it is tightened via pulling down, as these ratchets are  mounted with reverse gear teech. With the two advantages above, ergo ratchet tie downs are thought to be the best ergonomic tie down lashing ratchet in the market.
China Wristrong, as one of leading manufactuers and suppliers in manufacturing ergo ratchet tie down straps in China, is producing and selling this EN12195-2 standard ergo ratchet tie downs straps at most competitive prices now. In addition, Wristrong China can also produces the ratchet tie downs according to customers' special using requirements. For example, different end fitting hooks (See more details bellow); different ratchets; different colours, break strengths, and stiffnesses of the webbing belts. You can refer to our professional  Sales Team for your detailed requests.
Description Of Ergo Long Handle Ratchet Tie Down Straps:
Item Name: Ergo Ratchet Tie Down Straps 5Tonne
China H.S Code: 5609000000
Material:Polyester webbing + Mn steel
Ratchet:   300mm long handle 5 Tonne M.B.S Ratchet
Hooks: 5 Tone M.B.S Double J hooks
Webbing belt: 50MM wide with M.B.S 7500KGS
W.L.L of Whole Assembly: 2500kgs
Safety Factor: 2:1 on ratchets and hooks, 3:1 on webbing belts
Length:  0.5m fix end+11.5m long long end (or As requested)
Color: Orange with five black stripes on webbing belt surface.
Standard: EN12195-2
Characteristic:Fast tension and release,wearable, factory direct prices.
Package: Carton boxes+pallets
Wristrong Industry is manufacturing 25mm-100mm wide Ratchet tie down, acc to EN12195-2 for European market, our ratche tie downs  are made of durable resin-coated,UV-resistant polyester webbing strap,and various heavy duty corrosion resistant ratchet buckles and end fitting hooks. Different types of Wristrong EN12195-2 Standard ratchet tie downs avaiable bellow:
Ratchet Tie Downs Endless Type
---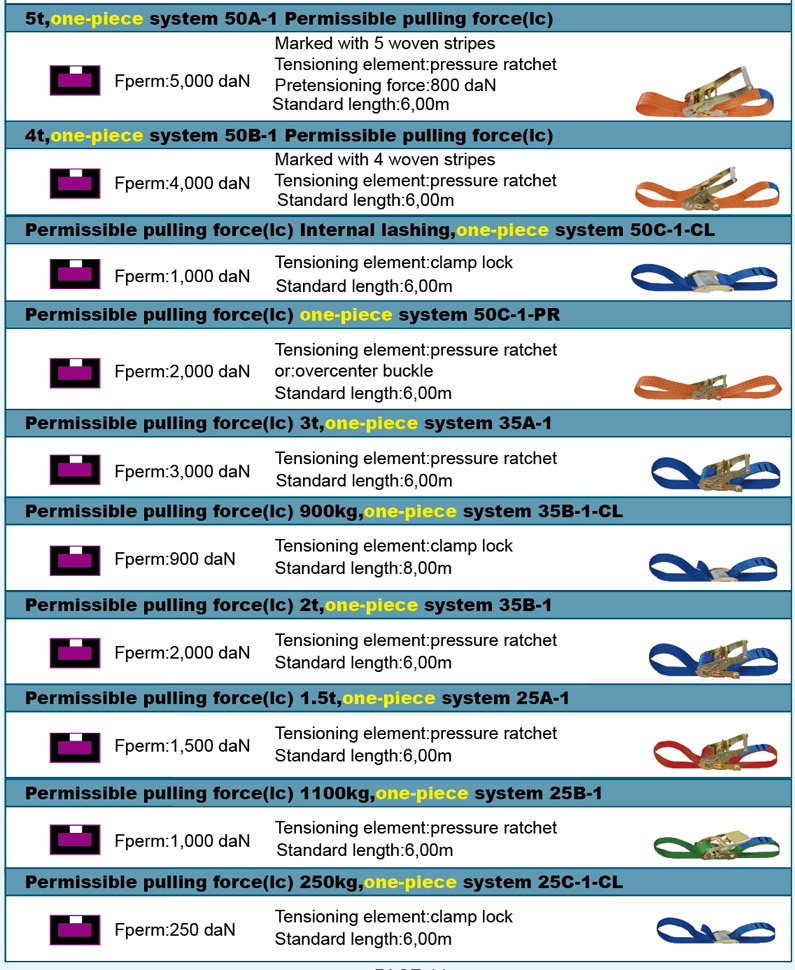 Ratchet Tie Downs 5T
---

Ratchet Tie Downs 4T
---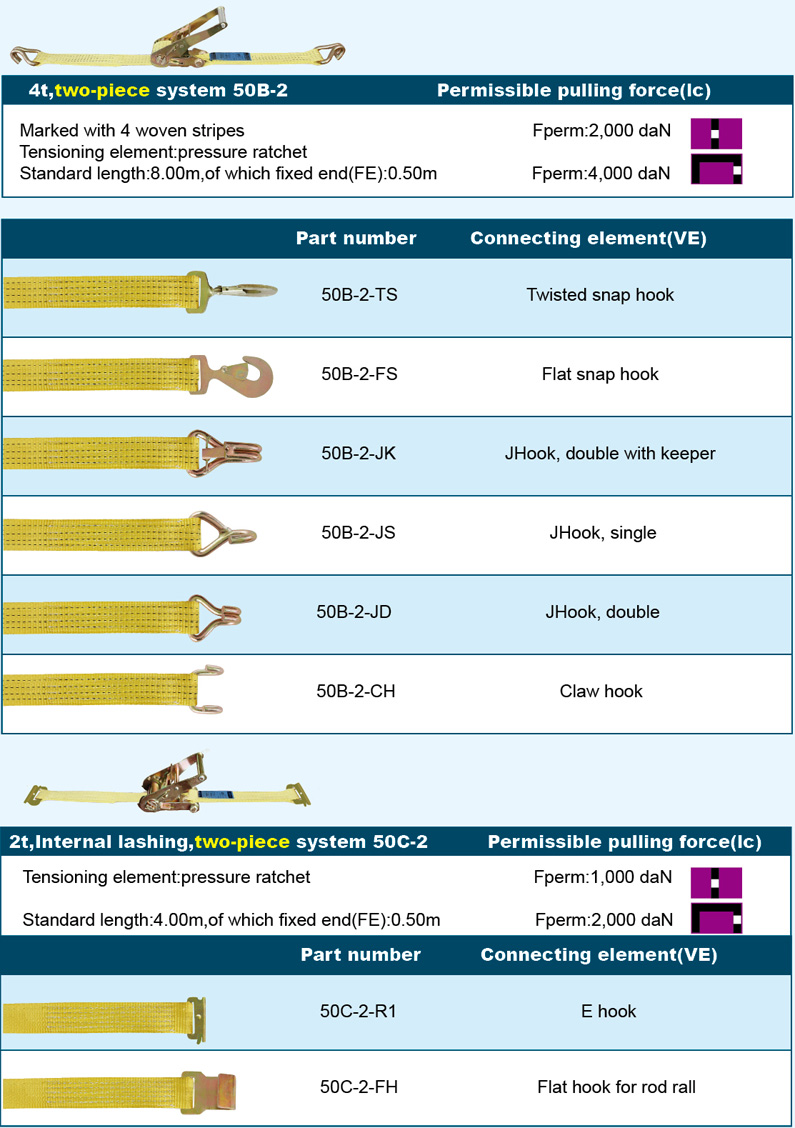 Ratchet Tie Downs 3T
---

Ratchet Lashing Straps
---