Full Body Safety Harness-DX-513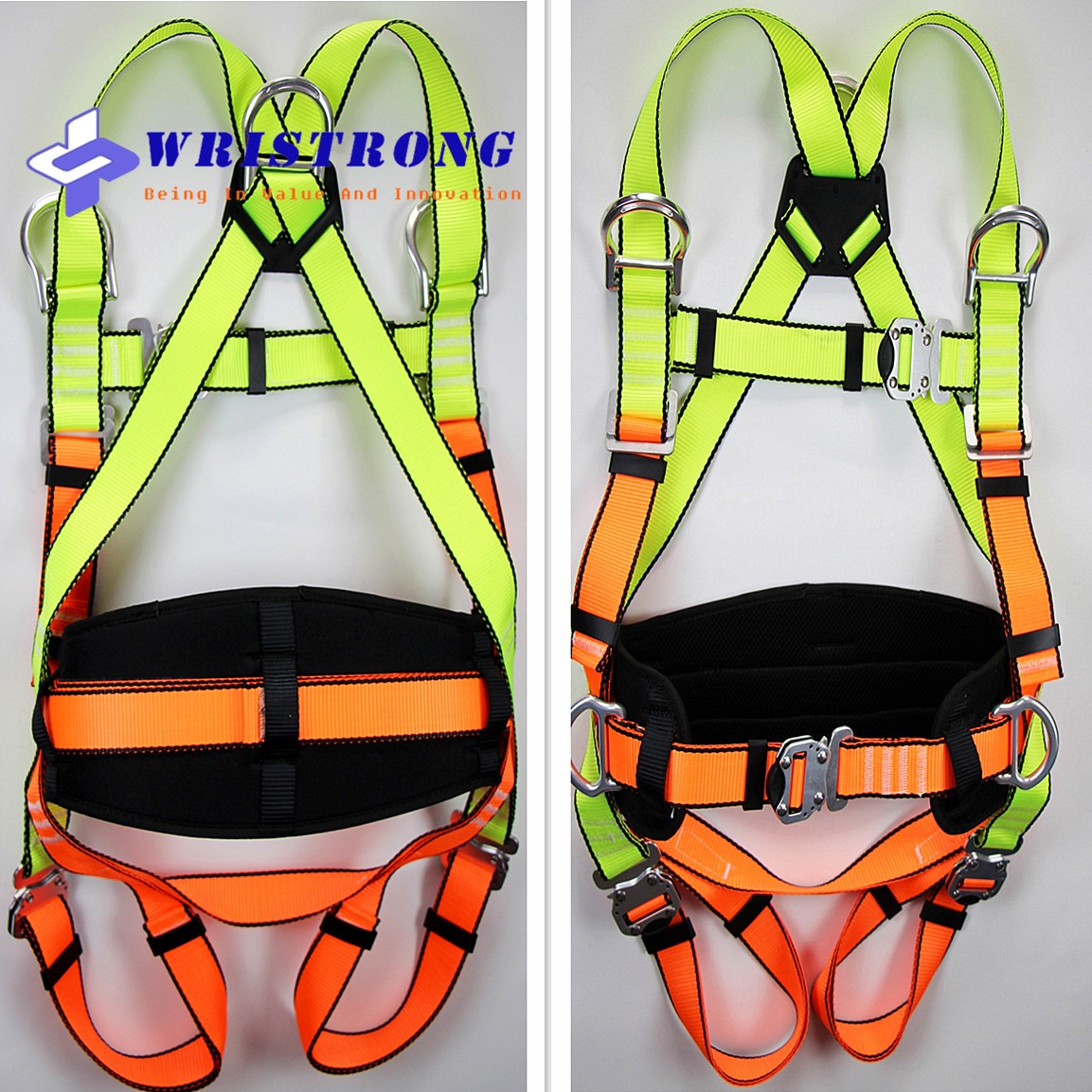 Please Note:
If you have any special requirements, you can contact us bellow and we will reply you as soon as possible.
Request A Quote
Product Specification:
Full Body Safety Harness-Safety Harness-DX-513-China Wristrong Manufacturing
An electrician construction site is a tough environment, however the design and materials used on these construction harnesses are up to the task. Our DX 513 Full-Body Safety Harness uses high quality Taiwan-imported Aluminum alloy metal Parts to make this harness extremely light- weigthed for long time confortable wear during working. In addition, the harnesses use heavy- duty webbing that is almost twice as strong as the standards require, and is certain to provide the safety protection and longest service life possible.
Hangzhou Wristrong Industry Co.,Ltd started to produce Full body safety harness and its accessories6 years ago, when our partner in Taiwan joined us to develop the high quality safety harness for Taiwan and international market. All of our safety harnesses are produced 100% according to Europe EN361:358 2002 and Taiwan CNS, as well as EN 354 Safety Lanyard, EN 355 Energy Absorber, EN 362 connector,etc.
All of our webbing belts for safety harness are produced and quality checked by ourselves in house; most of hardware are supplied from our Taiwan partner, which gurrantee the quality and stablity.
DX-513 5-point Full Body Safety Harness with wasit foam pad strap and light reflective sheet Specification:
Full body aluminum alloy CE certified hardware,extremely light weighted , easy to use for long time;
Waist strap with foam pad, released by aluminum alloy snap buckle, easy to handle, comfortable for long time use;
Attached by one Alunimum ID Ring one each side for tool hanging or extra safey lanyard, ideal for the Electrician on high pole working.
Specification on China Wristrong full body safety harness-DX-513
| | |
| --- | --- |
| Webbing Material | 1500D/3300D Polyester Yarn |
| Webbing Width | 45mm-50mm |
| Colors | Yellow, Orang/Optional |
| Size | Universal |
| Hardware Material | Aluminum Alloy |
| Load Capacity | 150kgs/350lb |
| Tensile Strength | 2230kgs/5000lb |
| Chest belts | Adjustable, by aluminum alloy snap buckle, quick release,easy to handle |
| Dorsal belts | Fixed with one CE certified Aluminum Alloy ID-RING |
| Shoulder belts | Adjustable, by one CE certified Aluminum Alloy Pass-thru buckle and ID-RING attached on each side; |
| Thigh belts | Adjustable, by one CE certified Aluminum Alloy  on each side |
| Seat belts | pecial designed shape to make workers falling into sitting position , ease the Pressure on limbs |
| Waist Belts | Adjustable and fast-released by one aluminum alloy snap hook,easy to handle |
| Waist strap | With foam pad, comfortable for long time use; attachd by two Aluminum alloy ID Rings on the sides for extra safey lanyard and tools hanging. |
| Application | Construction, confined space, electrician height tower working |
| Standard | CE PSB EN361 CNS |
| Feature | Five point, waist strap with foam pad, extremely light weighted as full hardware aluminum alloy, high class. |
Safety Lanyards and Energy absorbers avaialbe for China Wristrong full body safety harness