Geared Travel Trolley GCL-AK Sereries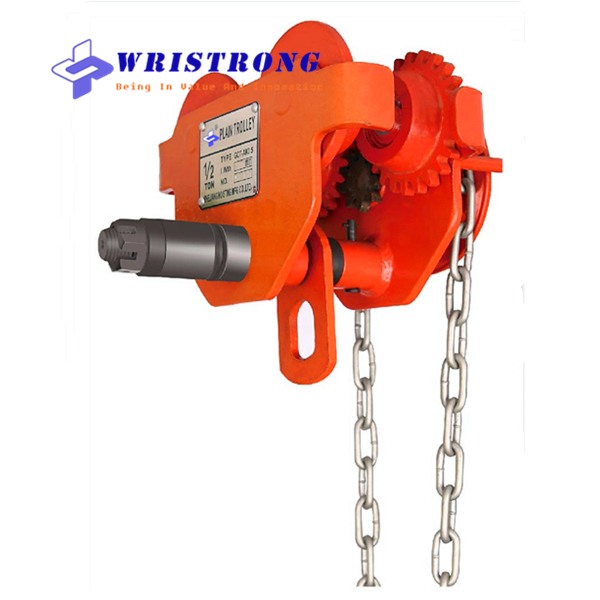 Please Note:
If you have any special requirements, you can contact us bellow and we will reply you as soon as possible.
Request A Quote
Product Specification:
Geared Travel Trolley GCL-AK Sereries | Beam Trolley | China Wirstrong® Selling
GCL-AK geared travel trolley are designed for the travelling of hooked or combined lifting machine to move along monorail. Driven by a hand wheel that is operated by a chain, the trolley could be used in many places such as factories, mines, docks and storehouses for equipment installation or transporting goods.
The Features Of  Geared Travel Trolley GCL-AK Sereries
-Capacity range from 0.5T to 30T
-Adjustable to any beam width, simply by adjusting the number of collars.
-The wheels are made to fit any shape of beam
-High grade sealed ball bearings.
-With anti-drop plates.
-For geared trolley, the standard operating length is 3m, other length is available upon request.
-Manufactured to EN13157, other standards also available
on request.
Selecting the Beam Trolley:
Travelling girder trolleys are available in a range of capacities with load bars/suspension eyes to accept hook on blocks or built into the block as an integral part. They are available with push/pull, hand chain geared and power operated travel. Select the trolley to be used and plan the lift taking the following into account:
-Capacity and type of trolley - load bar/suspension eye or built in block suspension arrangement - push/pull, hand geared or power operated travel.
-Type of block.
-Track size and profile. Consult the supplier if the trolley is to be used in areas of high risk, exposed to the elements, water, steam etc, with hazardous substances or subjected to extremes of temperature.
Specification  on Geared Travel Trolley GCL-AK Sereries: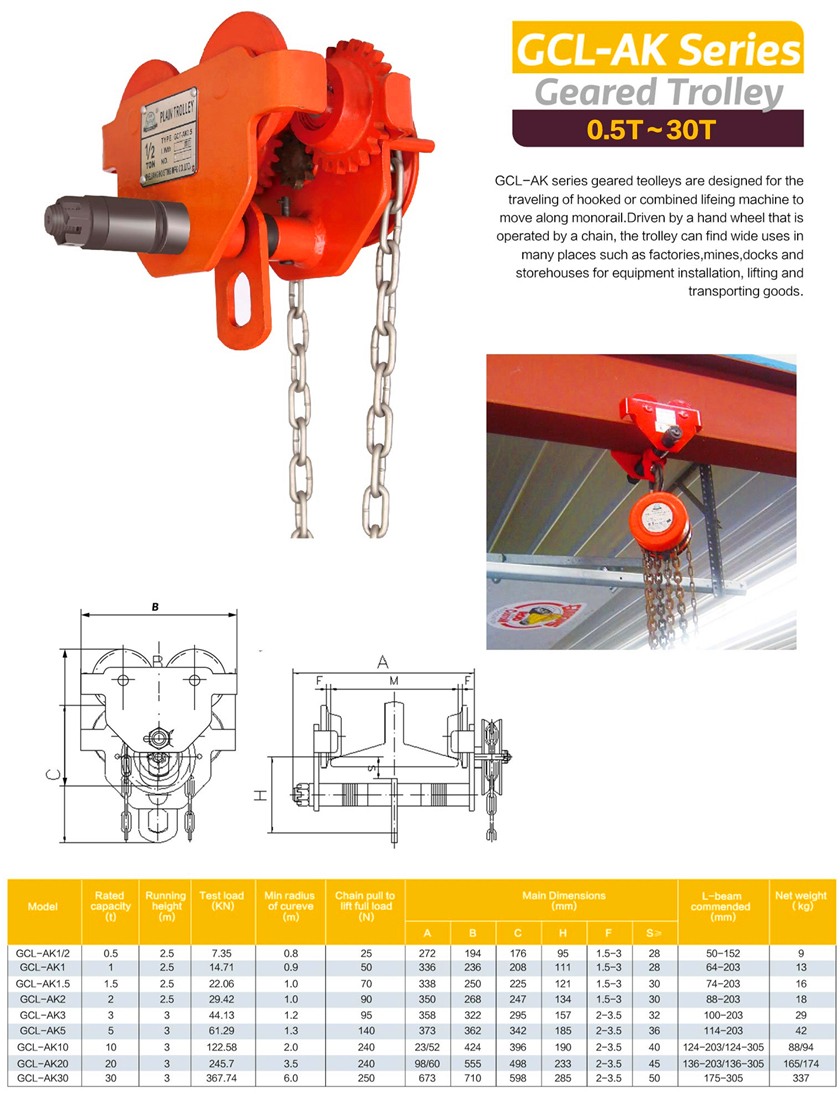 In-service Inspection and Maintenance:
1. Maintenance may be combined with that of the block but should ensure that the trolley is clean and that moving parts are regularly lubricated.
2. Keep the running surface of wheels and contact surface of track free of any contamination including lubricants.
3. Regularly inspect the trolley and, in the event of the following defects, refer the trolley to a Competent Person for thorough examination: wear; damage to wheel treads and flanges; insecure wheels and axle pins; loose nuts; distorted side plates, load bar or suspension eyes; damaged or worn hand chain; damaged controls; worn, chipped drive gears; illegible markings.