Grade 70 Transport Chains NACM96 & ASTM80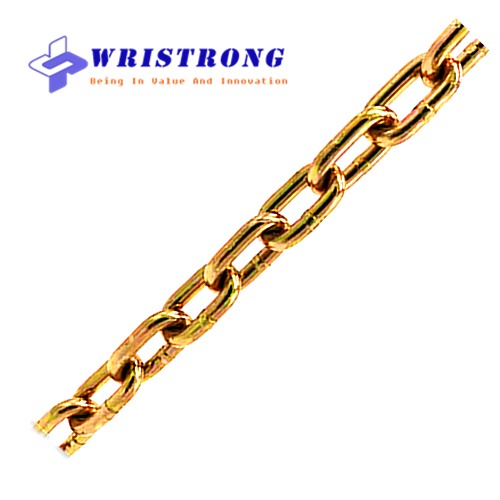 Please Note:
If you have any special requirements, you can contact us bellow and we will reply you as soon as possible.
Request A Quote
Product Specification:
Grade 70 Transport Chains to USA | China Wristrong Manufacturing
Grade 70 transport chain is a kind of welded carbon steel link chain. The chain is an improvement over high test chain. Load ratings of grade 70 chain are approximately 20% higher than grade 43. Grade 70 transport chain meets ASTM and NACM standards, is a high qualit,high strength carbon steel chain used for load security.
Max working load(MWL) based on safety factor 4:1 and 2 times MWL proof tested(MPF).
Elongation rate should be less than 15%. Grade marks embossed like:G30,G43,G70 on every 3ft.
The G70 transport chain is most popular in the cargo industry as trailer tie downs, logging, transport safety, oil rigging..., however the chain can not be used for overhead lifting applications.
The grade 70 transport chain generally features a gold chromated finish, which makes it easily identifiable. And other finish options like hot dip galvanized or black painted, and powder coated are also available upon request.
In addition to grade 70 transport chain, grade 43 high test chain, grade 30 proof coil chain, grade 80 alloy chain, and grade 100 alloy chain are also available from us.
Please call our sales team at +86-137-50858750 or send email to let us know what are you looking for, we'll be glad to help.
Specifications of Grade 70 Transport Chain (ASTM Standard in 1980)

Specifications of Grade 70 Transport Chain (NACM Standard in 1980)
Specifications of Grade 70 Transport Chain (NACM Standard in 1996/2003)