Japanese Standard Stainless Steel Chains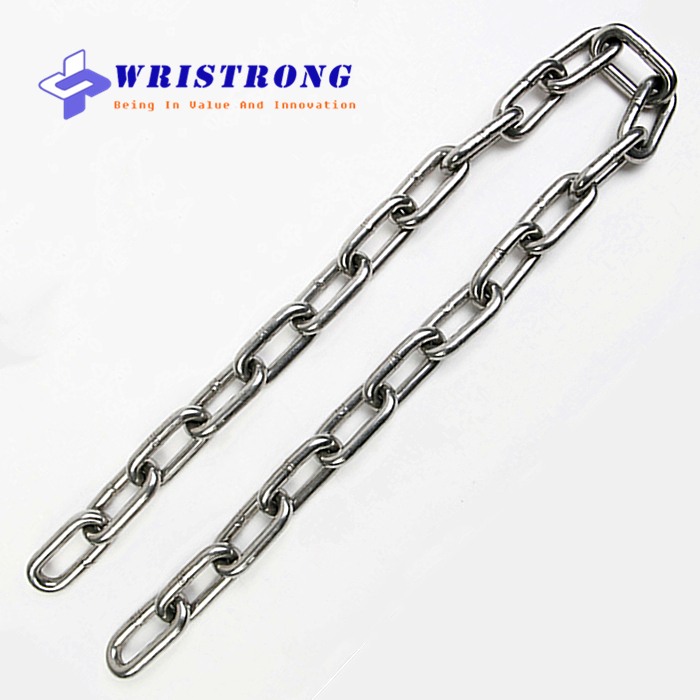 Please Note:
If you have any special requirements, you can contact us bellow and we will reply you as soon as possible.
Request A Quote
Product Specification:
Japanese Standard Stainless Steel Chain | China Wristrong Supply
China Wristrong supplied Japanese standard stainless steel chain meets requirements of Japanese Industrial Standards. The available steel grades are SUS304, SUS304L, SUS316, SUS316L, etc. We offer you chains with diameter range from 1.5 mm to 28 mm. The chain is suitable for general purposes.
Besides the Japanese standard stainless steel chain, other chains, such as American standard stainless steel chain, DIN standard steel chain, GB standard steel chain, EN standard steel chain, BS standard steel chain are all available. Please let us know what you are looking for, we'll glad to help. If you have any specific requirements, we can customize chains for you.
Buyer Tips For Stainless Steel Chains:
Q: Why are some of stainless steel chains also magnetic?
Some people often take it granted that the authentic stainless steel chains can be judged with magnets. Authentic stainless steel chains should be no magnetism. In fact, stainless steel chains may appear magnetic due to the fluctuation of its chemical composition during the smelting process, but this cannot be regarded as a counterfeit or substandard stainless steel; in addition,during cold processing of the stainless steel , the structure will also transform to Markov-Transition. The more the transformation, the greater the magnetism. On the contrary, 200 series stainless steel of lower quality is likely to be non-magnetic, so it is unscientific to judge that it is genuine stainless steel or not.
Q: How to identify genuine and fake stainless steel chains?
1. Use stainless steel test potion for testing.(Ni8)
2. Use a spectrometer to analyze chemical components.
3. Salt spray test to simulate actual use environment.
Q: Which kinds of stainless steel are commonly used? What kind of applicable environment are they suitable for?
1. 201 stainless steel, suitable for use in indoor environments.
2. 304 stainless steel, suitable for use in outdoor environments.
3. 316 stainless steel, suitable for use in coastal areas.
Specifications of Japanese Standard Stainless Steel Chains
| | | | |
| --- | --- | --- | --- |
|  Chain Diameter (mm)  |  Inside Length (mm)  |  Inside Width (mm)  |  Weight (kgs/meter)  |
| 1.5 | 9 | 2.7 | 0.041 |
| 2 | 12 | 3.5 | 0.07 |
| 3 | 19 | 5 | 0.16 |
| 4 | 26 | 6 | 0.27 |
| 4 | 20 | 6 | 0.29 |
| 5 | 27 | 7 | 0.44 |
| 5 | 20 | 7 | 0.49 |
| 5.5 | 30 | 8 | 0.54 |
| 5.5 | 24 | 10 | 0.6 |
| 6 | 31 | 9 | 0.65 |
| 6 | 24 | 9 | 0.72 |
| 7 | 37 | 10 | 0.88 |
| 7 | 28 | 10 | 0.96 |
| 8 | 38 | 11 | 1.18 |
| 8 | 32 | 12 | 1.27 |
| 9 | 39 | 13 | 1.55 |
| 9 | 36 | 14 | 1.61 |
| 10 | 42 | 15 | 1.95 |
| 12 | 54 | 20 | 2.77 |
| 12 | 48 | 19 | 2.88 |
| 13 | 52 | 20.8 | 3.35 |
| 14 | 56 | 22.4 | 3.89 |
| 15 | 60 | 24 | 4.47 |
| 16 | 64 | 25.6 | 5.08 |
| 17 | 68 | 27.2 | 5.72 |
| 18 | 72 | 29.7 | 6.44 |
| 19 | 76 | 31.3 | 7.18 |
| 20 | 80 | 33 | 7.95 |
| 21 | 84 | 34.6 | 8.72 |
| 22 | 88 | 36.3 | 9.59 |
| 23 | 92 | 37.9 | 10.49 |
| 24 | 96 | 40.8 | 11.44 |
| 25 | 100 | 42.5 | 12.41 |
| 26 | 104 | 44.2 | 13.44 |
| 27 | 108 | 45.9 | 14.47 |
| 28 | 112 | 47.6 | 15.56 |
China Wristrong Chains Production Process: