Lifting Round Sling WLL 13200LBS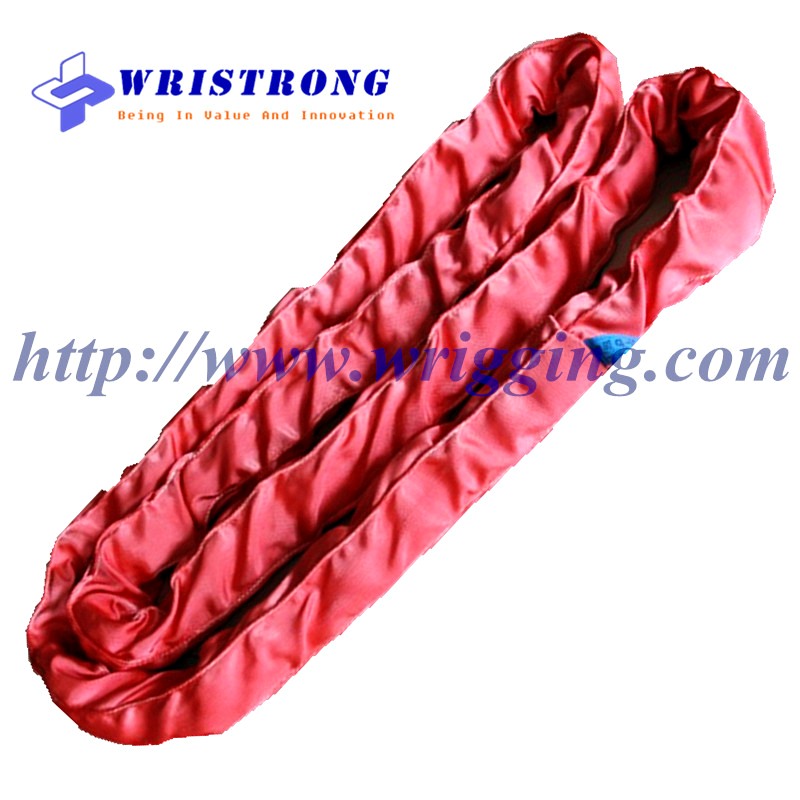 Please Note:
If you have any special requirements, you can contact us bellow and we will reply you as soon as possible.
Request A Quote
Product Specification:
Lifting Round Slings | China Wristrong Manufacturing
Lifting  Round Slings,Endless round slings to ASME/ANSI B30.9 from China Wristrong
Lifting Round sling is an all-purpose lifting sling, which is both high strong and non-damaging to its load. Extremely light in weight and infinitely flexible in all directions, it is easy and quick to manipulate even when awkwardly shaped or fragile loads are being lifted. Round sling is a continuous loop made from polyester yarn encased in a sleeve of polyester or Nylon fabric. The sleeve is so constructed that it protects the internal rows of yarn filament and keeps them in a parallel formation at all times. The yarn fibre core is free to spread out into a flat shape where the Round sling is in contact with its load. This provides a broad support, which cushions the load against damage and reduces slipping. The low stretch characteristics of the polyester yarn also prevent 'load bounce' when hoisting very heavy weights. We are the manufactuer, so buy directly from us, we will save the middle-channel costs. Wristrong Industry is the manufacturer for round slings, as well as the quality, service and prices, so there is no reason for customers to buy from the middle channels.
Specification Of USA Standard Round Slings:
-Manufactured to ASME/ANSI B30.9 & WSTDA-RS-1(North American Standard)
-Safety Factor: 5:1, and other safety factors are also available.
-could choose special length base on special requirement.
-SGS Tensile strength test report available on request
-Made from 100% AAA Grade well-selected polyester yarn
-Real Break strength always exceeds that in theory.
-With protective sleeves also available.
-One Year Quality Warranty On Factory Defects
-Free Sample available on the round slings W.L.L under 22,000LBS
-Traceable labels available on request.
-Factory test certificate for each sling
-Competitive prices
US type heavy lift endless roundslings-WLL:90,000LBS roung slings: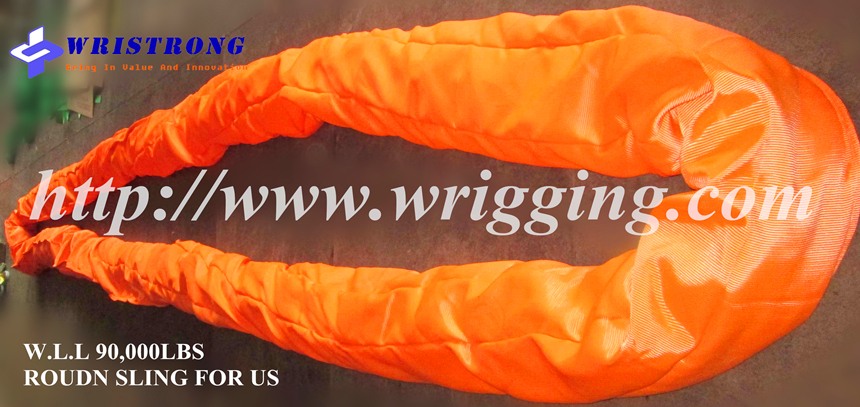 Lifting Round Sling (WSTDA-RS-1)  Capacity Chart: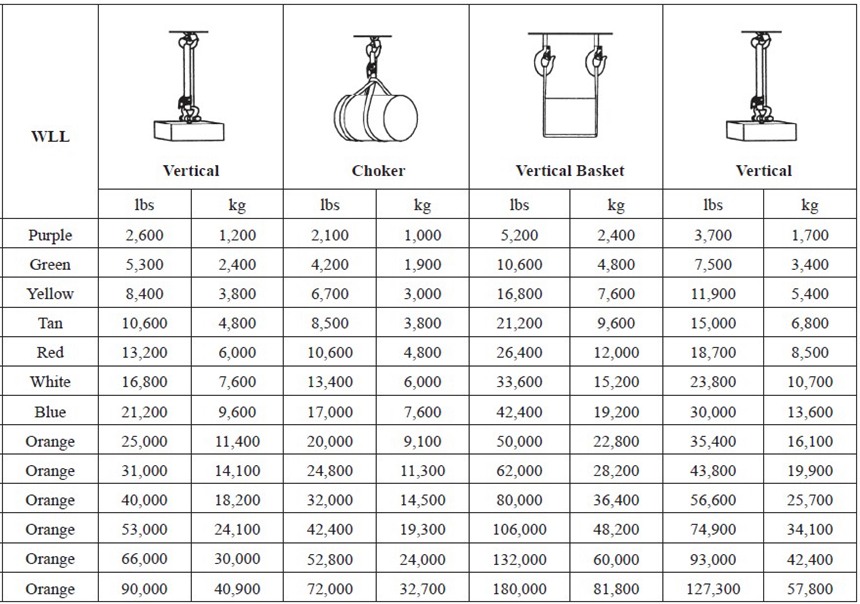 Webbing slings vs Round slings ? What's the differences between them?
Common Lifting slings in the market are divided into endless slings and eye to eye slings, but there are often some misunderstandings in the specific distinction between lifting round slings and flat webbing slings. It is necessary to understand the difference between these two type of lifting slings, in order to buy the right slings for your lifting purposes. Therefore here we just explain as follows:
The flat webbing sling has a wide bearing surface, high strength, and bright colors. Both corrosion resistance and abrasion resistance are relatively good, while the endless lifting round sling is lighter, with a long life and  large load capacity. It ensures safety performance and does not damage the items lifted. Meanwhile it protect the operators' hands from injury. The load-bearing surface of the flat webbing sling is wider and smoother. It is especially suitable for lifting objects with soft surfaces. Compared with the chain slings, at the same load, the endless lifting round sling is only 20% of its weight. Even if it falls from a high altitude, it will not cause injury and cause harms to operation. The lifting round sling will not cause fire sparks in an explosive operating environment, and the strong impact will only flatten the lifting round sling, there the risk value is almost zero to use this kind of slings.
It should be noted that any form of lifting sling should never be overloaded during use. The correct lifting method must be applied according to ASME/ANSI B30.9 & WSTDA-RS-1. In addition, the edges and corners that contacting the lifting slings must be isolated by the protections. Avoiding vibration or impact on the loading objects as much as possible. Check it beforehand to avoid overloading the sling.
If you have any problems when choosing lifting slings, you are welcome to consult on Wristrong Sales Team.