PP Lifting Webbing Slings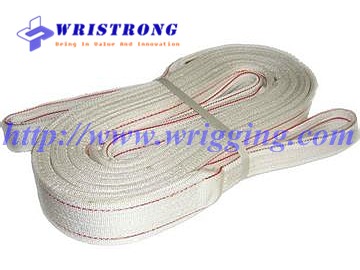 Please Note:
If you have any special requirements, you can contact us bellow and we will reply you as soon as possible.
Request A Quote
Product Specification:
PP-Polypropylene Webbing slings-PP one way slings-Flat Webbing Slings
Material: Polypropylene
Safety Factor: 5:1,7:1,4:1, 3:1,8:1
Length: As requested
Color: White,Black,etc
Standard: DIN 60005,EN 1492-1,BS 3481-3,ect
Characteristic: 100% acc to the standard
Package: Cartong boxes+Pallets
Wristrong manufactures disposable webbing slings/one way use only slings to the British Standard to BS3481-3. These slings are made from High Tenacity Polypropylene Yarn with a safety factor of 5:1. These multiple lifting one way slings are used for the loading and unloading of cargo at intermediate drops until they are off loaded at there final destination; where the supplier of the cargo's liability will be ceased and the slings should be scrapped.
The unique advantages of polypropylene made slings are:
1, Not easy to absorb liquids. The retained humidity is insignificant.
2,Much Less static electricity than that for PES and PE (this is very important in applications where there is friction with other materials).
3, Recyclable 100%.
4, High resistant to chemicals items,specially alkalis.
5, High resistance to abrasion(longer use lifespan).
6, Lighter density: Lighter weight. 7, UV Treatment to protect from sunlight. 8, Thermal insulation. 9, Washing up to 95º.Does not absorb dirt and does not colour fade.
Characteristics:
1, Widths: from 25 mm till 300 mm.
2,Great variety of colours. All of the normal colors are available for options.
3, Finishing of yarn during extrusion: Sanitized (antibacterial), flame retardant (FR), fireproof.
4, Breaking Strength: up till 30.000 Kg.
5, Excellent resistant to acids and alkalis.
6, Both water and soil repellent. 7, Polypropylene is water repellent (hydrophobic).

If you are not familliar with the wristrong lifting slings, please also refer to bellow links to know more about  our lifting slings:
How to Choose the Webbing Material for Lifting Slings?.
Quality control on webbing slings-also same process on roundslings.