Ratchet Tie Down With Claw Hooks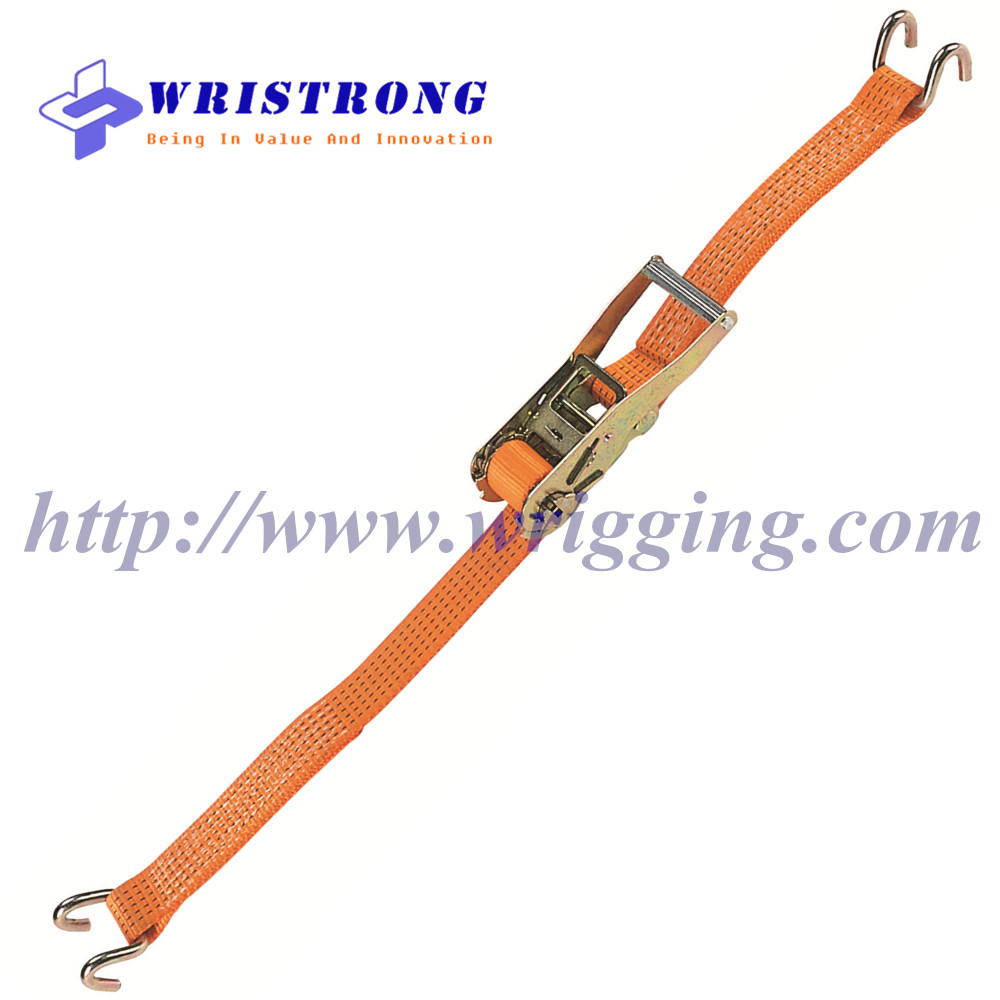 Please Note:
If you have any special requirements, you can contact us bellow and we will reply you as soon as possible.
Request A Quote
Product Specification:
Ratchet Tie Down With Claw Hooks | China Wristrong Supplying
These ratchet tie downs come with U-shape hooks, which looks like tiger's claws, thus also called claw hooks. Compared with double J hooks, the claw hook has a wider hooking distance, this can distract the pressure at the hooking points. By this advantage, ratchet tie down with claw hooks will inflict less pressure on hooking points, which is better protected and can bear more tension strength.
China Wristrong, as one of leading manufactuers and suppliers in manufacturing ratchet tie downs, web lashing straps in China, is producing and selling these EN12195-2 standard ratchet tie downs / web lashing strap at most competitive prices now. In addition, Wristrong China can also produce the ratchet tie downs according to customers' special using requirements. For example, different end fitting hooks (See more details bellow); different ratchets; different colours, break strengths, and stiffnesses of the webbing belts. You can refer to our professional  Sales Team for your detailed requests.
Specification Of EN1219502 Ratchet Tie Down With Claw Hooks :
Item Name: Ratchet Tie Down With Claw Hooks 5Tonne
China H.S Code: 5609000000
Material:Polyester webbing + Mn steel
Ratchet:   Alumium handle 5 Tonne M.B.S Ratchet
Hooks: 5 Tone M.B.S Claw hooks
Webbing belt: 50MM wide with M.B.S 7500KGS
LC of Whole Assembly: 2500kgs
Safety Factor: 2:1 on ratchets and hooks, 3:1 on webbing belts
Length:  0.5m fix end+9.5m long long end (or As requested)
Color: Red with five black stripes on webbing belt surface.
Standard: EN12195-2
Characteristic:Fast tension and release,wearable, factory direct prices.
Package: Carton boxes+pallets
Wristrong Industry is manufacturing 25mm-100mm wide Ratchet tie downs, acc to EN12195-2 for European market, our ratche tie downs  are made of durable resin-coated,UV-resistant polyester webbing strap,and various heavy duty corrosion resistant ratchet buckles and end fitting hooks. Different types of Wristrong EN12195-2 Standard ratchet tie downs avaiable bellow:
Ratchet Tie Downs Endless Type
---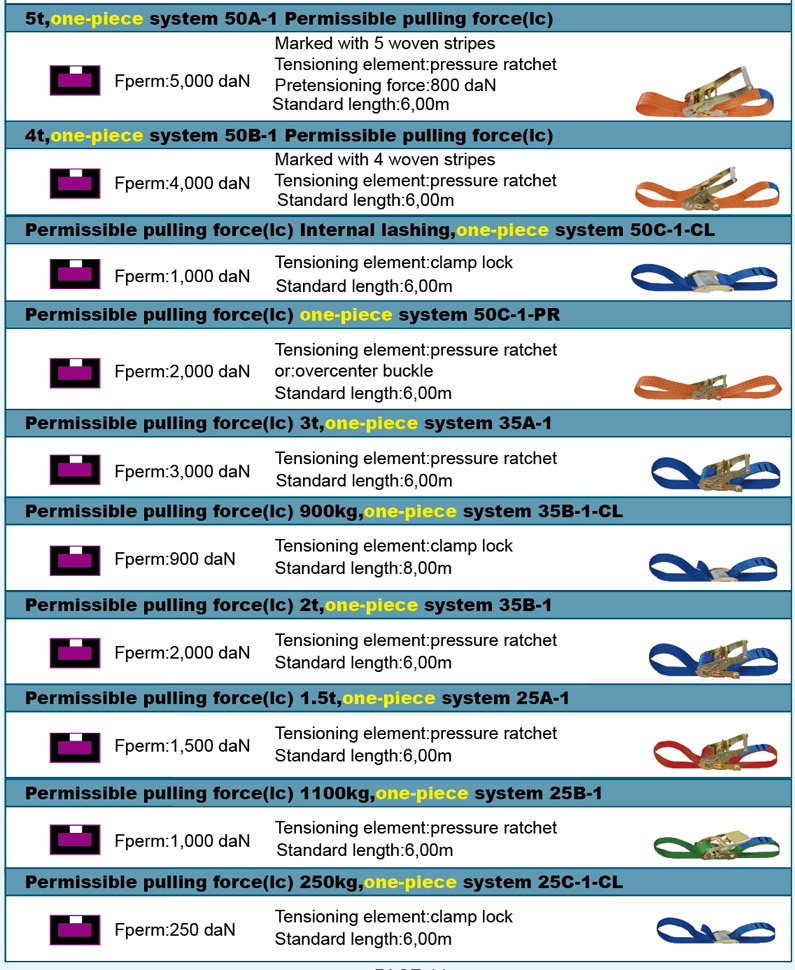 Ratchet Tie Downs 5T
---

Ratchet Tie Downs 4T
---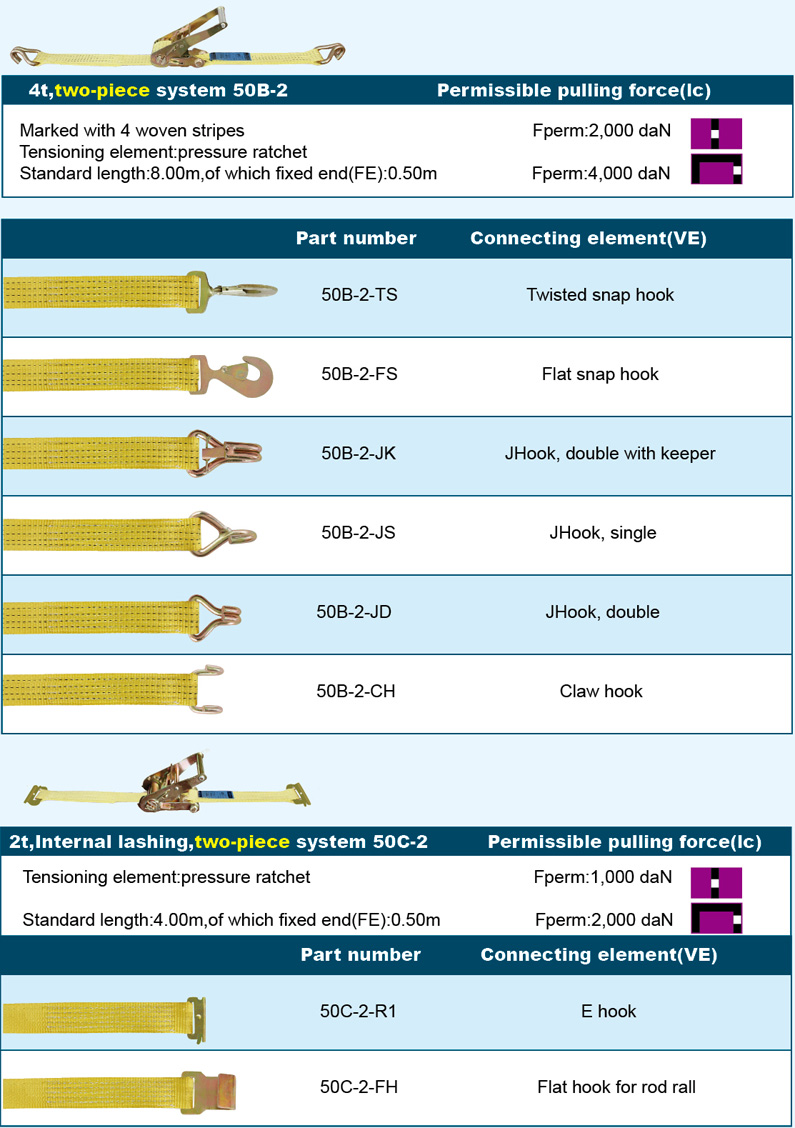 Ratchet Tie Downs 3T
---

Ratchet Lashing Straps
---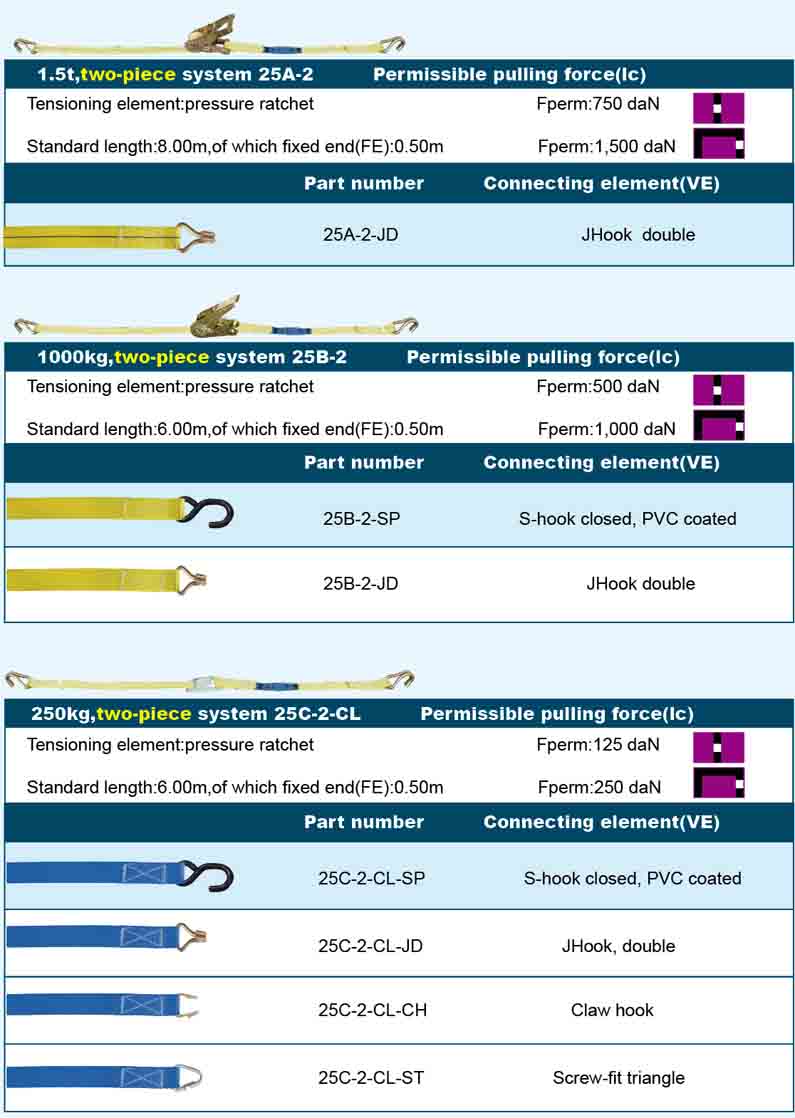 Features Of Wristrong 5Tonne Ratchet Tie Downs:
---
Germany Quality standard
End fitting: S-hook, heavy duty S-hook, wire hook, vinyl coatedS-hook, U hooks, chain extensions, flat hooks and e-lock track.
Colors available: violet, green, yellow, gray, red, brown, blue, orange,black and white
With 50mm ratchet, metal stuff (heat-treated)
U-hooks provides secure hold without scratching or rusting(heat-treated)
Easy to on/off
With quick release lever
With 2500kgs working load low elongation
Used for tying down loads whilst transporting, shifting or moving them.
Replaced traditional jute ropes, chains and wires used fortransportation and for variety of other applications.
For webbing and mechanical load securing are designed in-house,constructed and produced using well-selected materials
All the metal parts are heat treated.
Our production facility is equipped with the latest machinery operated by competent experts.
Great for securing motorcycles, ATVs, lawn equipment and moreon trailers and truck beds.
Can also be used to secure small equipment to hand dollies.
Weather and rot resistant polyester webbing for maximum strength.
Trouble-free, push button quick-release ratchet lock-down forquick tightening and removal.
Durable straps and stable ratchet tension system will not loosen with road vibration.
Suitable for trucks, trailers and hand dollies
Customized lengths are accepted
OEM orders are welcome
All of our ratchet straps are manufactured according toEN12195-2:2000 or ASME/ANSI B.30. 9 standards
With TUV, GS, CE and GB marks
Compliant with RoHS Directive
---