Slacklines China-Slacklines Freewalker 5T
Please Note:
If you have any special requirements, you can contact us bellow and we will reply you as soon as possible.
Request A Quote
Product Specification:
China Slacklines | Slackline Freewalker | Wirstrong® Manufacturing
China Wristrong Industry Co.,Ltd is the first and most professonal slacklines manufacturer in China. Wristrong has the unique patented slacklines webbing weaving technology and exellent advaned slack lines printing methods,which set us apart from other ratchet straps supplier(they also call it as slack lines) . Please refer to Wristrong Sales to confirm that you are buying the real slack lines webbing or a normal ratchet strap webbing.
Slackline Freewalker is developped by us , which is 5T and available on both 15M and 25M length. As the webbing on 5T is much stronger than that on 3T, thus it is ideal to make long line upto 25M or even longer, like highlines, waterlines. Wristrong specializes in Making Your Own Brand Slacklines.
The Spcification of  Slackline Freewalker goes as follows:
-50mm width, for high mounting height and safe handling.
-Maximal Tension 5.0Tons.
-Maximal load 2.5Tons.
-Two part set for fast assembly and disassembly.
-TÜV GS standard product.
-Treeprotectors, Instruction manual, practical carry Bag,color package box available on request.
-Dynamic and elastic webbing provides a bouce force when jumping on the line.
-Easy to trick and jumping on the line.
-Sides-flat weave webbig, which give the feet most smooth and confortable feeling.
-Rubber coated printed to enhance the foot feeling and catch.
Slacklines Packages: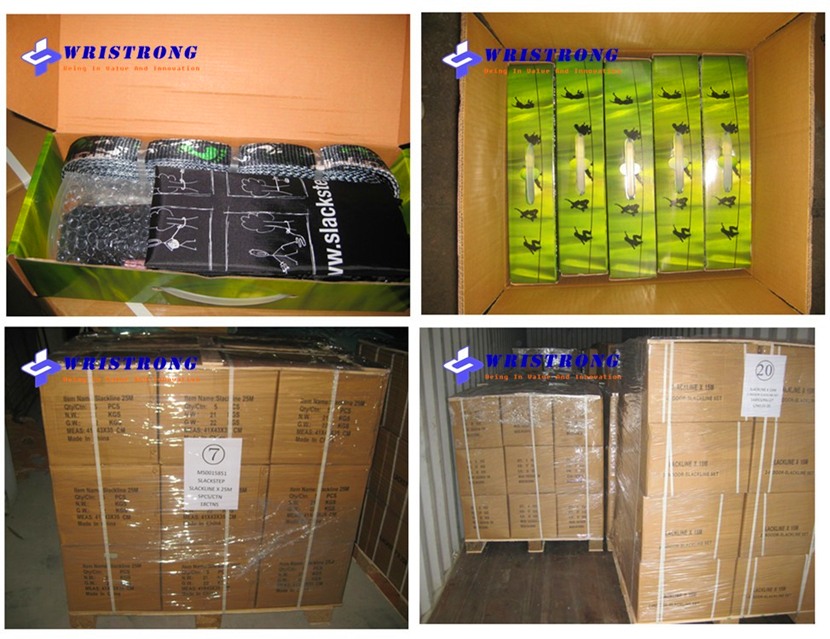 We are not only producing slacklines, but also slacklining:

Slacklining is a practice in balance that typically uses polyester webbing tensioned between two anchor points. Many people suggest slacklining is distinct from tightrope walking in that the line is not held rigidly taut (although it is still under some tension); it is instead dynamic, stretching and bouncing like a long and narrow trampoline. The line's tension can be adjusted to suit the user and different types of webbing can be used to achieve a variety of feats. The line itself is usually flat, due to the nature of webbing, thus keeping one's footing from rolling as would be the case with an ordinary rope. The dynamic nature of the line allows for tricks and stunts. Slacklining has quickly become popular due to its simplicity and versatility and its ability to be practiced in a variety of environments. Those who participate in slacklining are often called "slackers".
Nowadays Styles of  slacklining includes:Urbanlining,Tricklining,Waterlining,Highlining,Highlining,Tunelining ,Slackline Yoga,Freestyle slacklining,etc, and Wristrong can provide nearly all kinds of different slacklines to meet your various experiences on slacklining. Pleae Contact Wristrong Sales for your detailed needs.