Waist Safety Belts-China Wristrong Producing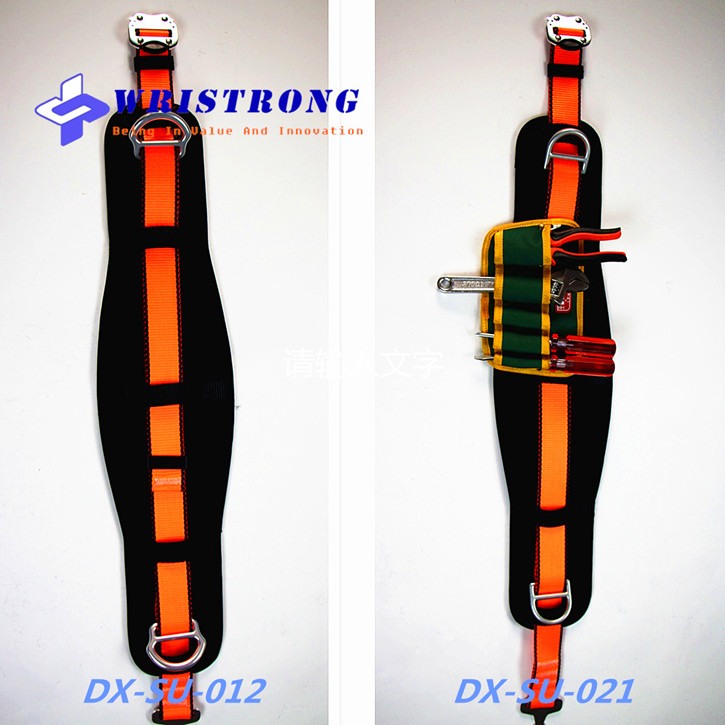 Please Note:
If you have any special requirements, you can contact us bellow and we will reply you as soon as possible.
Request A Quote
Product Specification:
Waist Safety Belts | China Wristrong Manufacturing
Hangzhou Wristrong Industry Co.,Ltd started to produce Full body safety harness and its accessories 6 years ago, when our partner in Taiwan joined us to develop the high quality safety harness for Taiwan and international market. All of our safety harnesses are produced 100% according to Europe EN361:358 2002 and Taiwan CNS, as well as EN 354 Safety Lanyard, EN 355 Energy Absorber, EN 362 connector,etc.
All of our webbing belts for safety harness are produced and quality checked by ourselves in house; most of hardware are supplied from our Taiwan partner, which gurrantee the quality and stablity.
Wristrong produces virous models of waist safety harness belts, General specification for our waist safety harness belts as bellow:
| | |
| --- | --- |
| Application: | building, rescue, power, telecom,shipbuilding, bridge working, etc |
| Material: |  high quality polyester + Alloy steel or alloy aluminum hardware |
| Static performance | ≥15kN/5min |
| Dynamic performance | ≤6kN |
| D-ring and Main webbing | ≥22kN |
| Structure and Performance feature | 1.Steel back D-ring 2.Pass-thru buckles 3.Vest type |
| Tips | 1.Usage period: 5years but cannot be used once fall happened 2.Check before use each time, keep in dry avoid the sunlight |
Use Instruction-Waist Belt-According to EN358:2000
This device is used for protection again falling; for proper use, see supervisor, or instructions, or call 
Wristrong Industry.
Most of safety belts have been approved by Certification body: STP (Secretary of the Safety Technical Testing Laboratory), Adalbert-Stifter-Straße 65,A-1200 Vienna (Notified Body 0511) and STP will also be carrying out the ongoing assessment.
These products are classed as Personal Protective Equipment (PPE) by the European PPE Directive 89/686/EEC and have been shown to comply with this Directive through the Harmonised European Standard EN 354:2002 Personal protective equipment against falls from a height :Lanyards
CAREFULLY READ THESE INSTRUCTIONS BEFORE USING THIS PRODUCT
This product is designed to minimize the risk of/provide protection against falling and the dangers resulting from falling down.
However, always remember that no item of PPE can provide full protection and care must always be taken while carrying out the risk-relation activity.
Description & Application
Waist belt with wide contoured comfort pad and a rigid bow "D" ring each side for the attachment of work positioning devices. Manufactured from polyester webbing with non-corrosive fittings. Work positioning systems are intended for use by workers required to work at heights on poles or other structures in a supported position, thereby enabling
Thread free end of webbing up between knurled bar and fix piece of webbing on buckle. Then pass free end of webbing back down between knurled bar and end of buckle so the European caution motif/emblem is visible.
Modification and Repairs
No repairs, modifications or alterations are to be carried out on this work positioning belt.
Rescue Plan
As part of your risk assessment, you MUST have in place a rescue plan to deal with any emergency which may occur during use. Access to the user, directly or indirectly, and their safe retrieval is of paramount importance, including preparations for dealing with potential Post Fall Suspension Trauma.
Inspection
The pre-use check must include (but is not limited to):
★ Check all webbing/ rope for signs of cuts, abrasions, fraying tears, burns, mold , discoloration or chemical attack.
★ Check all stitching for signs of loosening, pulling or cut thread. There must be no evidence of damaged stitching on either side of the stitch pattern.
★ If the belt has been subject to significant paint overspray, it must not be used.
★ Adjusters and connectors MUST be free from rust, excessive wear, distortions or cracks and regularly check during the use.
If during the pre-use check any part is found to be or believed to be faulty. DO NOT use it. Remove ALL components from site to ensure that they cannot be use by anyone.
Users of this equipment should be free from any medical conditions that could affect the safe usage of the equipment.
Cleaning, Maintenance Storage and Transportation
You may clean the belt of light soiling, using warm water with pure soap or mild detergent. Heavy deposits of creosote or grease may be removed with a diluted solution of heavy detergent and water.
Avoid getting soap / detergent into buckles. After cleaning, rinse thoroughly with fresh clean water then remove excess water with a dry cloth. Finally, allow the belt to dry naturally then give it a full inspection before storing.
Store in a cool dry place, which will protect the belt from extreme humidity, direct heat and sunlight. Allocate a storage area specifically for belt. If the belt is wet, allow to dry naturally before storing. For transportation, it should be packed in a textile bag of them to have both hands free for working. They are not intended for fall arrest. When working using a work positioning device, it should normally be used in conjunction with a fall arrest system.