Wire Rope Press Machine 300T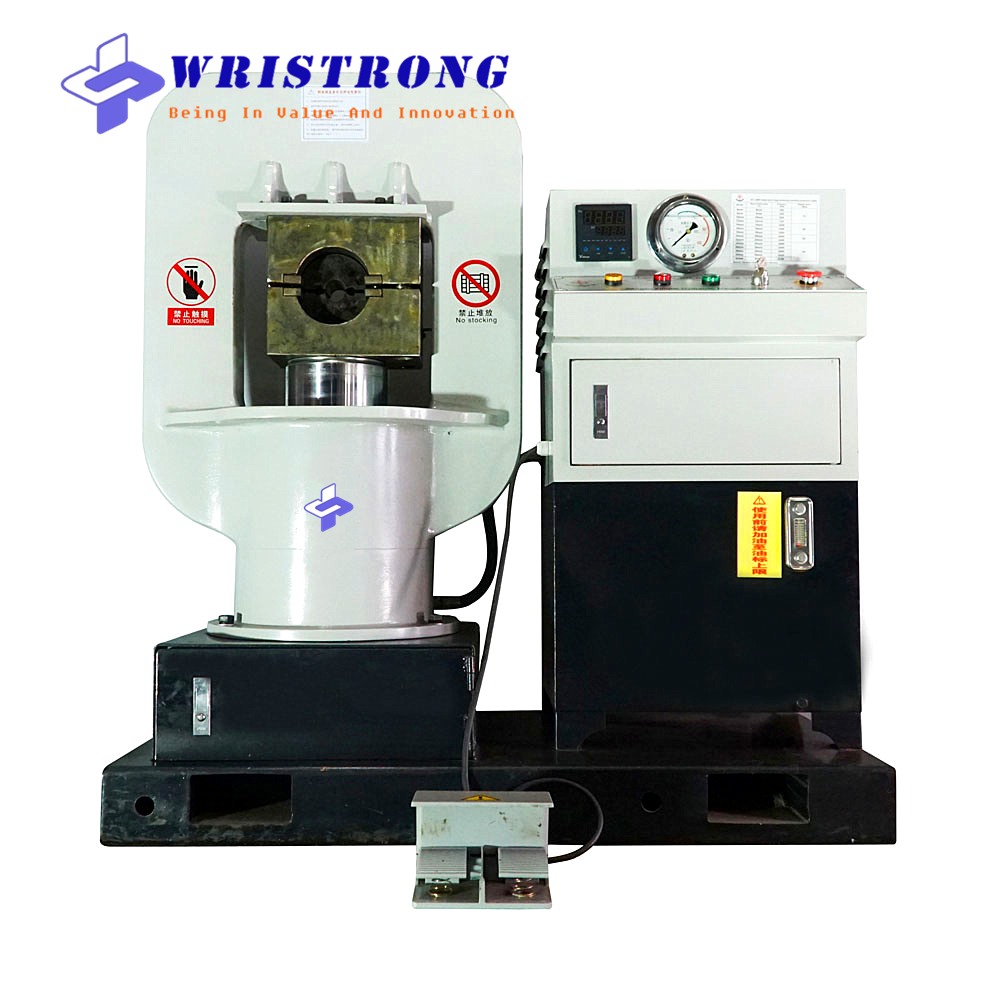 Please Note:
If you have any special requirements, you can contact us bellow and we will reply you as soon as possible.
Request A Quote
Product Specification:
Wire Rope Press Machine 300T | China Wristrong Supplying
China Wristrong has been dedicated to supplying and developing hydraulic wire rope press machine, wire rope annealing and tapering machine for more than 6 years . With the supports of  advanced producing equipment,continuous improvement and innovation from our invested supplier, Wristrong wire rope machine have won many national invention patents and utility model patents.
Wristrong hydraulic swager is forgged from high stength alloy steel. The body of swagers are manufactured from one single block construction that ensure strength and long service life. Our hydraulic machines adopt high pressure and low pressure pump oil supply system to bring in fast upward and downward speed as well as smooth pressing process, greatly improving the pressing quality and production efficiency.  The Wristrong hydraulic press machines and wire rope annealing machine have been exported to UK, Australia, Holland, Latvia, Malaysia, Thailand, India, Russia, Botswana,Polland and so on.
The WT-200T  Hydraulic Steel Wire Rope Press Machine is also hydraulic wire rope swager is from one single block construction that ensure strength, long service life and a minimum of maintenance. All swagers are thoroughly test run and are supplied with a full tank of oil. This press swager machine come with max press power at 3,000kn, can process the wire rope diameter upto 32mm.
Features Of Wire Rope Press Machine WT-300T:
1. WT-300T wire rope press machine come with both mechanical and electrical molds. By switching between two different molds, you can suppress the different specifications of wire rope, easy  and safe to operate .
2. Dual control for hydraulic system, the overflow valve, magnetic contact on the pressure gauge can be accurately controlled.
3. Electric control parts of the low-voltage control, an increase of operating system security.
4. All Wristrong dies are made of high quality die steel and undergoes high temperature, queching, tempering and other processes, becoming sturdy and durable.
5.Pull the rope to suppress large, beautiful, fast, and a wire rope press-fit just a few minutes to complete, significantly reduced the labor intensity and improve the work efficiency.
Technical Parameters Of Wire Rope Swage Machine WT-300T:
| | |
| --- | --- |
| Mode No. | WT-300T |
| Max press power (KN) | 3000 |
| Max wire rope diameter in one pressing (mm) | Φ24 |
| Max wire rope diameter in multi-pressing (mm) | Φ32 |
| Power (KW) | 4 |
| Max working pressure (Mpa) | 56Mpa |
| Max piston movement (mm) | 80 |
| The up speed of piston (mm/sec) | 4.5 |
| The down speed of piston (mm/sec) | 4.5 |
| Total length (mm) | 1200 |
| Total width (mm) | 650 |
| Total height (mm) | 1400 |
| Net weight (kg) | 1000 |
Wristrong China offers a wide range of wire rope press machines and wire rope annealing and tapering machines for different wire rope diameter. Please Check the link bellow for more of our wire rope machine:
---