WLL 3100lbs Web Sling With Flat Eyes
Please Note:
If you have any special requirements, you can contact us bellow and we will reply you as soon as possible.
Request A Quote
Product Specification:
WLL 3100lbs Web Slings  | China Wristrong Manufacturing
Currently China Wristrong is able to manufacture web sling with loading capacity (W.L.L) upto 120,000LBS, accaroding to American synthetic web sling standards ASME/ANSI B30.9,WSTDA-WS-1. This Wristrong manufactured 2" wide web sling with flat straight eyes is called type 3 web sling and is made of Class 7 (see the web sling specification bellow to know what is class 7 ) 2" lifting belt, can bear 3100lbs in straight load. Other brief details go as follows:
Material: High tensile strength polyester yarn
Vertical W.L.L: 3,100LBS
Basket W.L.L: 6,200LBS
Choker W.L.L: 2,480LBS
Safety Factor: 5:1
Width: 2"
Length: As requested
Proof Test Certificate:  A proof test can be carried out and provided with a certificate upon request.
Color: White,Yellow,Green,Black,Pink,Red,etc
Standard:  ASME/ANSI B30.9,WSTDA-WS-1
Characteristic: 100% acc to the standard, wearable & durable
Package: Carton boxes+pallets
USA Standard Web Sling Specifications:
Double Ply Eye & Eye Webbing Sling Class 5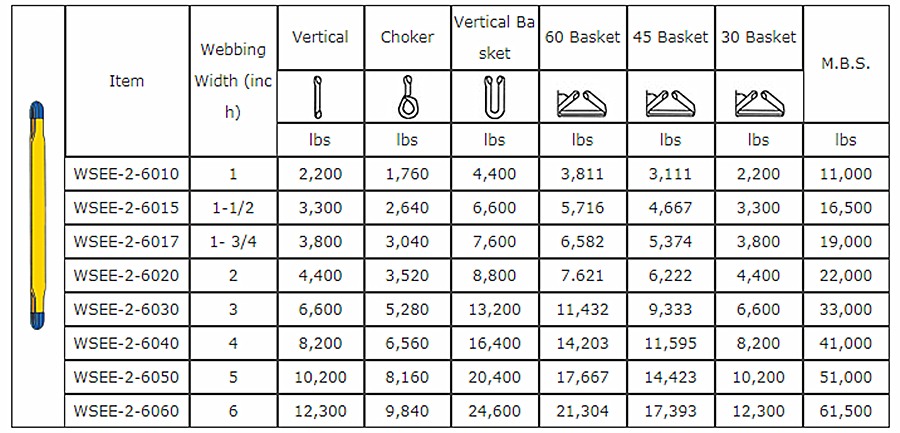 Class 5 means rated loads are based on a stuffer weave construction webbing possessing a minimum certified tensile strength of 6,800 lbs/inch width.
Double Ply Eye & Eye Webbing Sling Class 7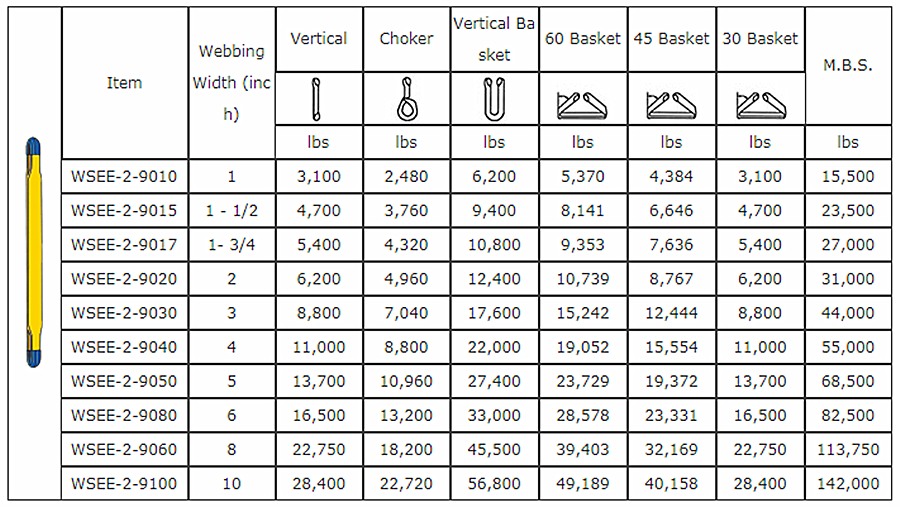 Class 7 means rated loads are based on a stuffer weave construction webbing possessing a minimum certified tensile strength of 9,800 lbs/inch width.
How to Order lifting web slings?
Generally Our professional sales team will advise you on how to order the webbing slings according to your lifting conditions and environment. However, some times you may know well about what kind of web slings you need or you may just buy same web slings that you are using now. In this case you can just let us know following information:

1: The most import 1: size information showed in the web sling diagram above.
2: The most imporat 2: Working load limit (Load capacity).
3: Safety factor: Usually American standard web slings come with a safety factor of 5:1. But If you have other application of the sling, like single use / trip / one way  lifting use, it is also fine to go with 4:1, or 3:1, which will save the cost by a lot. If you don't know what is single use slings, you can find out the link Wristrong One Way Slings.
4: Color of the web sling. We can manufacture nearly all the normal colors according to your color code.
5: Packaging: Our normal packing way is carton box + Pallet, which is proven to be a very safe way during transportation. However, if ou have any special requirement on packages, just let us know.
6: Order Quantity and trade incoterm.( FOB, CIF or DAP,etc)
7: Delivery time: 25-30days for any made to order. For some big orders, please let us  know your usage plan and we will try our best to keep up with your pace.
8: Payment term:  Regular payment via T/T, 30% down payment, 70% balance before shipment. But if you have other idea on the payment ways, you can negotiate with us.
If you would like to get more information or place order direcetly, you can just
contact us
right away.
Wristrong Industry are producing large quantity of North America standards-ASME/ANSI B30.9, or standards from WSTDA  lifting-purpose eye to eye web slings for USA and Canada markets. We've estalished long term business relationships with the customers from steel factories and geomembrane factories in North America.