AS 1353 Flat Webbing Slings WLL 8000KG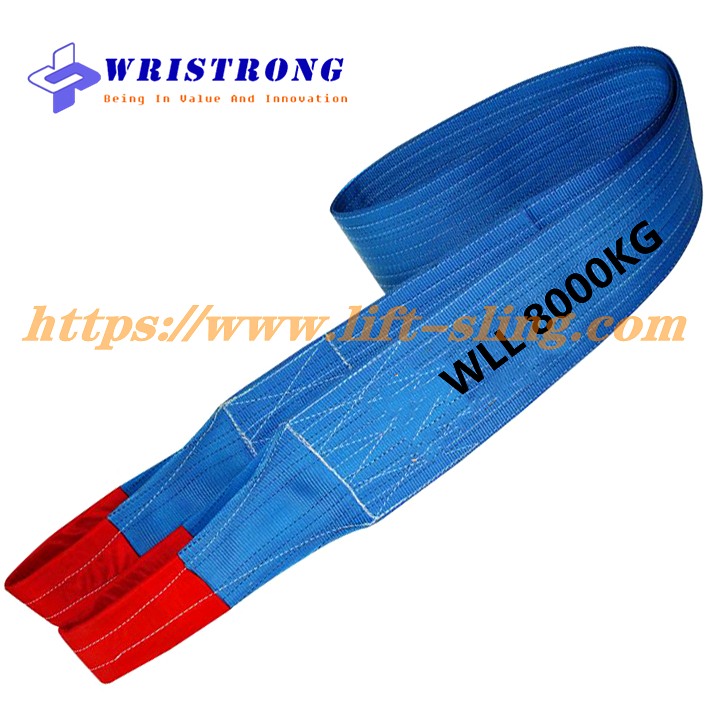 Please Note:
If you have any special requirements, you can contact us bellow and we will reply you as soon as possible.
Request A Quote
Product Specification:
AS 1353 Flat Webbing Slings WLL 8 T | China Wristrong Produces
Features Of  Australian AS 1353 Flat Webbing Slings WLL 8 Tonne:
-Material: 100% AAA Grade well-selected polyester yarn
-Safety Factor: 8:1
-W.L.L : 8 Tone (8000kgs)
-Width: 240mm
-Length: As requested
-Color: Blue with 8 black stripe on webbing surface.
-Standard: As1353 Parts 1 & 2
-Characteristic: 100% acc to the standard
-Package: Carton boxes+pallets
-SGS Tensile strength test report available on request.
-Real Break strength always exceeds that in theory.
-With protective sleeve also available on request.
-One Year Quality Warranty On Factory Defects.
-Free Sample available on the endless webbing slings W.L.L under 8Ton.
-Traceable labels available on request.
-Factory test certificate for each sling.
-Competitive prices-manufactuer directly.
Brief Introduction Of As 1353 Flat Webbing Slings:
Australia requires higher standard than that for Europe on webbing sling, Wristrong webbing slings are manufactured from high quality polyester fibers to comply with the requirements of AS 1353 Parts 1 & 2 with the safety factor of 8:1.
Wristrong Webbing Slings are colour coded as standard and have stripes for easy identification of WLL. Wristrong webbing slings also feature with reinforced eyes for extended life. Each sling can be individually proof tested at manufacturer's upon requests and comes with a Test Certificate and unique traceable serial number on label. Each label has two same serial number: one of them sewed into webbing for permanent trace use. Our Australian standard webbing slings capacities range from 1.0 Tonne to 50 Tonne.
Specification on AS 1353 Flat Webbing Slings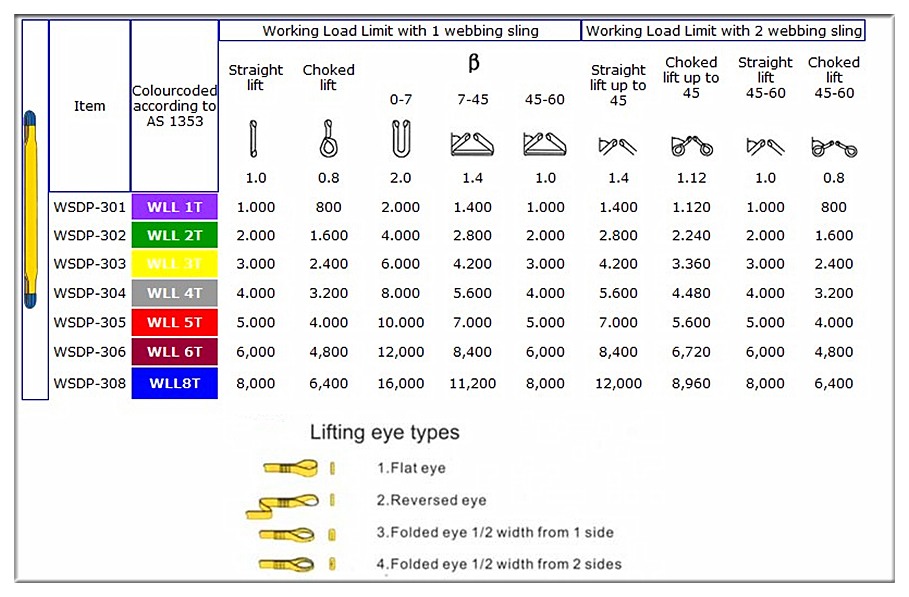 PS: Heavy lifting slings W.L.L capacities above 10tons will all come with orange colours and go without black stripes on the webbing surface. And the labelling, certificates and proof test rquirements should comply with AS 1353 for sure.
Wristrong Heavy Duty Lifting Webbing Slings & Round Slings In Using: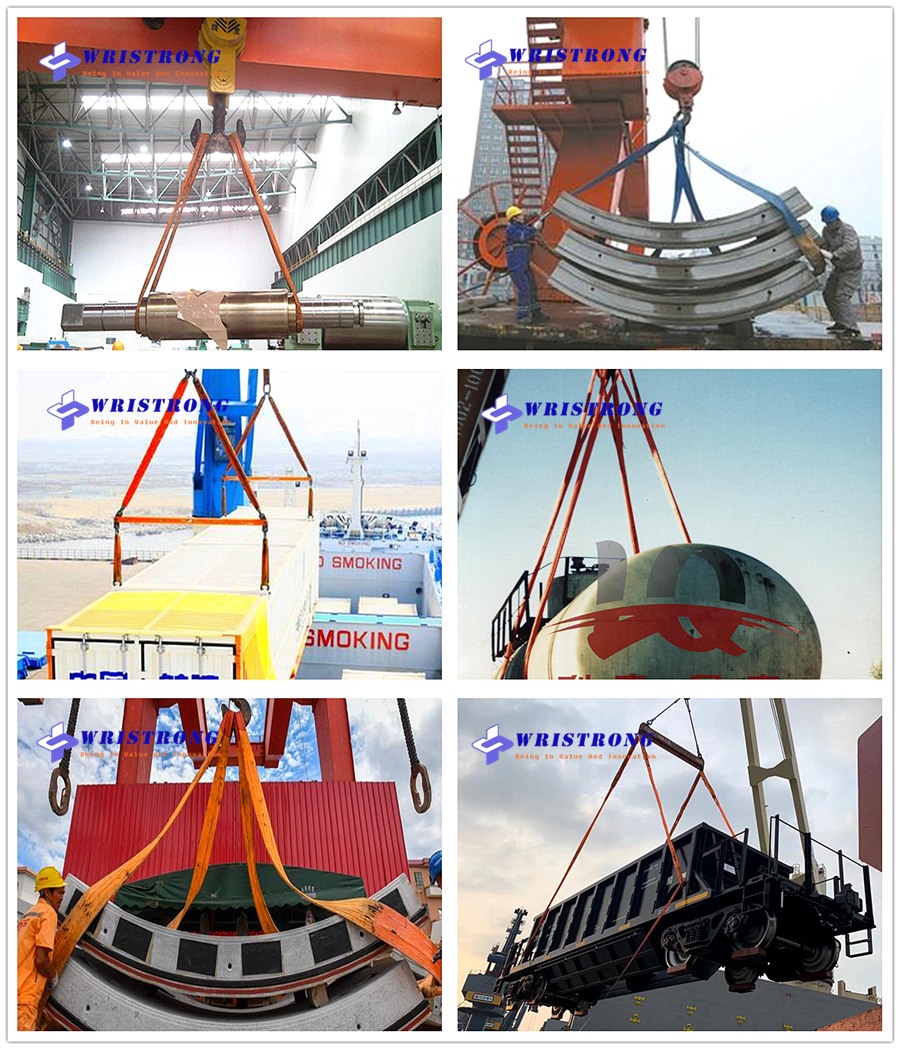 Checklist Of AS 1353 Webbing Slings:
1.Is the label on the sling missing or unreadable and the sling cannot be identified?
2. Is there any damage to the sling eyes and along the load-bearing webbing fibres in the form of cuts?
3. Is there any surface wear due to abrasion or chaffing? This is evident by a furry surface?
4. Is there any evidence of heat, friction or burns to the fibres of the webbing, such as glazed or fused surfaces?
5. Is there any evidence of chemical damage such as weakening or softness of the cover or flaking of surface fibres?
6. Is there any others damage to sling that might compromise the safety and performance of the products?   (Your comments below)
7. Are any connecting components or fittings are distorted, cracked, fractured or excessively worn or corroded?
Hints For Safe Lifting On Webbing Slings:
1. Consult LEA for sling configurations not shown on the sling label or on this test certificate.
2. Do not use sling if this label is removed or missing.
3. Inspect sling for damage before each use.
4. Do not use sling if there is any sign of a cut cover,snagging,heat or chemical damage,excessive wear,damaged seams,any other defects or presence of grit,abrasive materials or other deleterious matter.
5. Do not tie knots in sling.
6. Protect sling from sharp edges of load.
7. Don not expose sling to temperatures above 90℃。
8. Do not allow abrasive or other damaging grit to penetrate the fibres.
9. Consult LEA before immersing a sling in a chemical solutio.
10. Keep away from strong acids, alkalis or phonelic compounds.
Other Related Lifting Webbing Slings: