China Heavy Duty Round Slings WLL 80T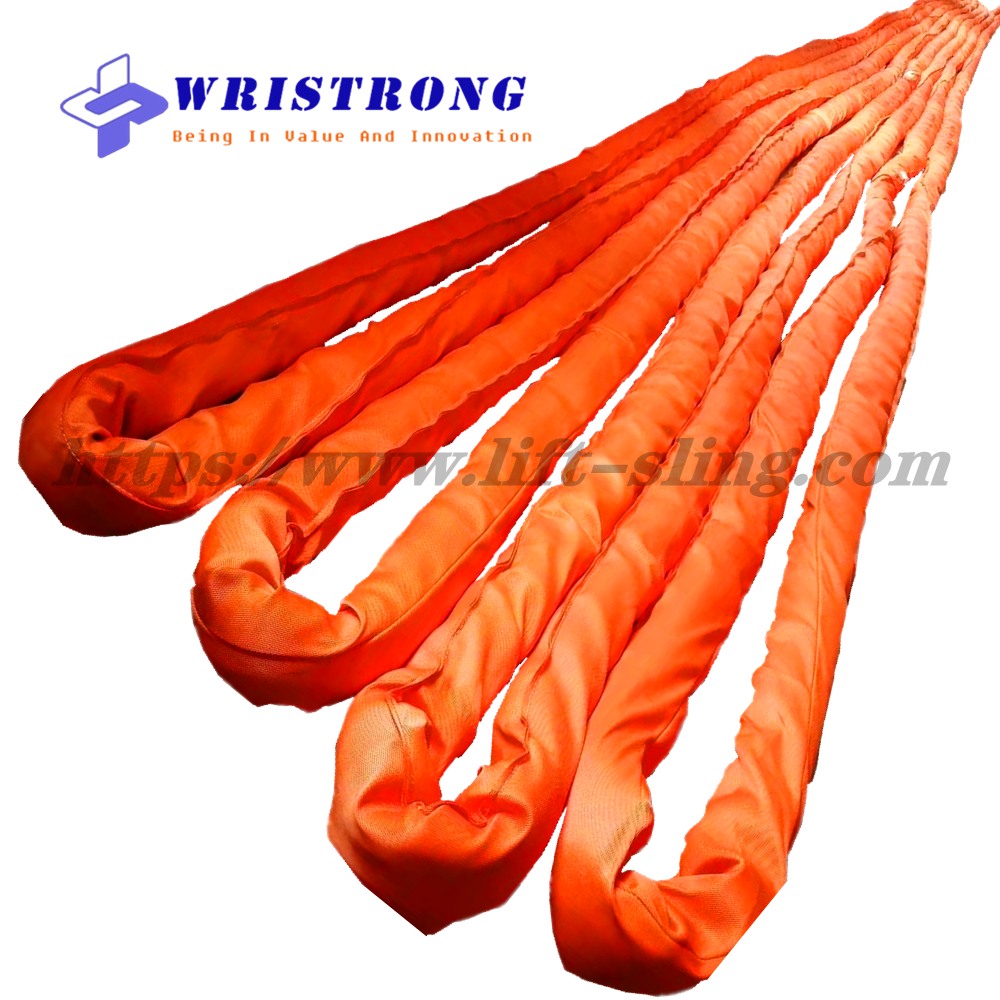 Please Note:
If you have any special requirements, you can contact us bellow and we will reply you as soon as possible.
Request A Quote
Product Specification:
China Round Slings | WLL 80T Heavy Duty Round Slings | China Wristrong Manufacturing
Australian & European standard heavy duty round slings WLL 80T from China manufactuer-Wristrong Industry
Wristrong Industry is one of  the most professional manufacturers in producing  heavy duty / heavy lift round slings in China. These heavy duty lifting round slings are made from high tensile polyester yarns (5.6-8.0cN/dtex). Due to low moisture absorption, the break strength are basically the same with dry condition when it gets wet. This feature makes the polyester round slings ideal to opearate in moisture condition, like in rainy days, at seas,etc. Polyester round slings is also a good  corrosion-resistant slings, can be resistant to bleach, oxidants, hydrocarbons, ketones, petroleum products and inorganic acids, not afraid of mold. That's why the polyester round slings are widely used in nearly every industrial sector wordwide. Each Wristrong Made  80Ton heavy lift endless round slings will be fufilled by  proof test in designated lab and a proof test certificate will be issued and attached onto the heavy duty lifting sling packages. Wristrong  China only use double ply sleeves: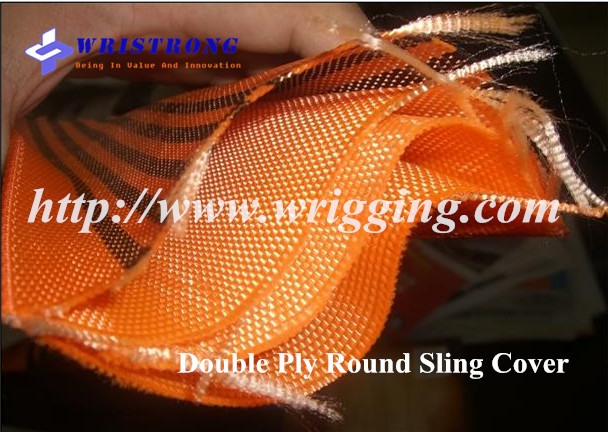 Features of Wristrong WLL 80T Heavy Duty Round Slings:
-Manufactured to AS 4497 (Australian Standard) &  EN1492-2 (European Standard)
-Safety Factor: 7:1, and other safety factors are also available.
-W.L.L : 80Tonne /80,000KGS.
-Color: Orange
-could choose special length base on special requirement.
-SGS Tensile strength test report available on request
-Made from 100% AAA Grade well-selected polyester yarn
-Real Break strength always exceeds that in theory.
-With protective sleeves also available.
-One Year Quality Warranty On Factory Defects
-Free Sample available on the round slings W.L.L under 10Ton
-Traceable labels available on request.
-Factory test certificate for each sling
-Factory direct cheap prices
Wristrong Industry specializes in producing AS 4497 lifting round slings for Australian & European markets. Capacity upto 500Ton. Heavy duty round slings is one of our most prefessional products, which is widely used in international lifting market.
Wristrong Heavy Duty Round  Slings Used In Herrenknecht Tunnelling Systems: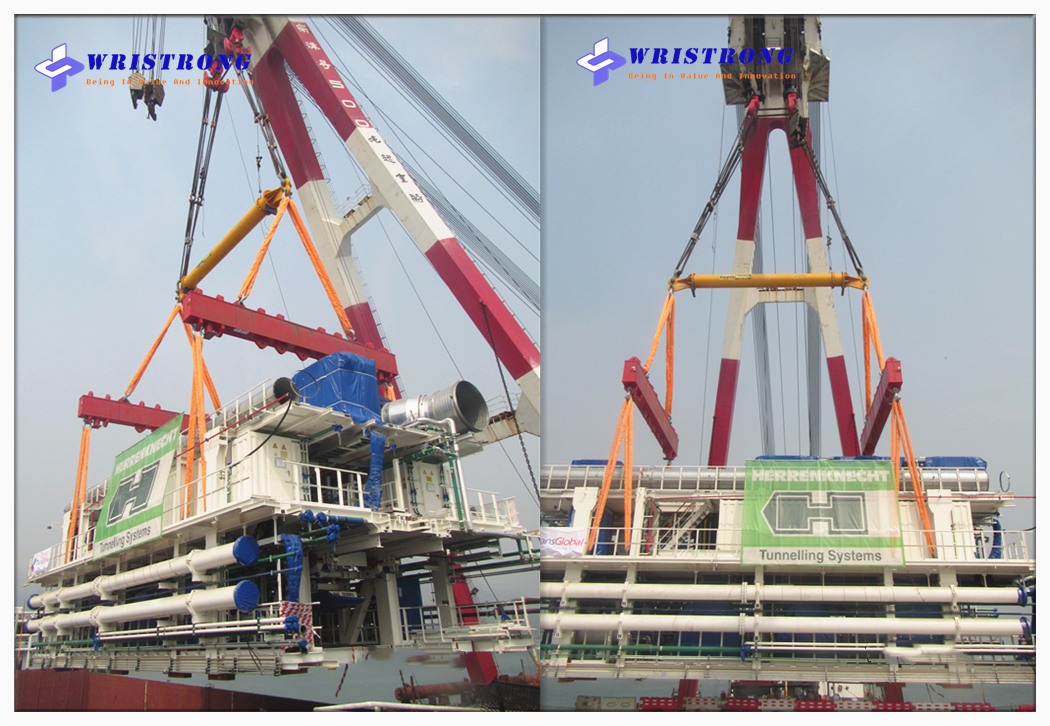 Australian & New Zealand AS 4497 standard round slings requires traceable label on each polyester round sling. However,some times we are also required to provide normal label to dcrease the cost. Wristrong strongly advise the customers to use the traceable label on the round slings to totally comply with the AS 4497 standard. Bellow we just example out the two kind of labels we've ever produced before. Of course, Wristrong could produce other forma label to meet the customers' unique design requirements.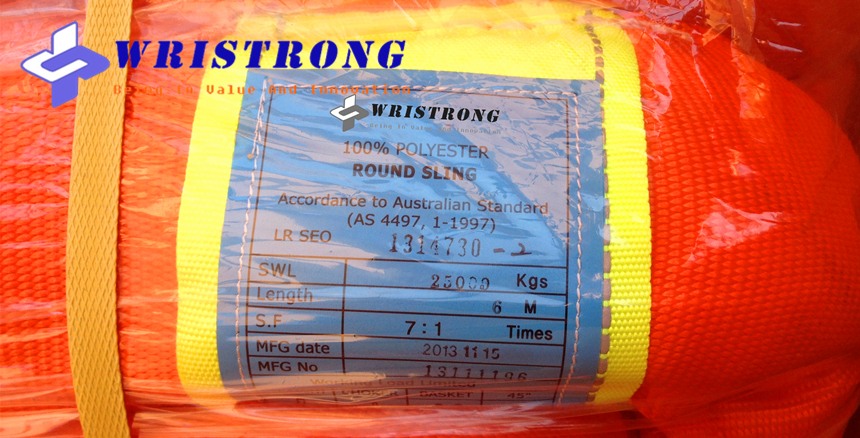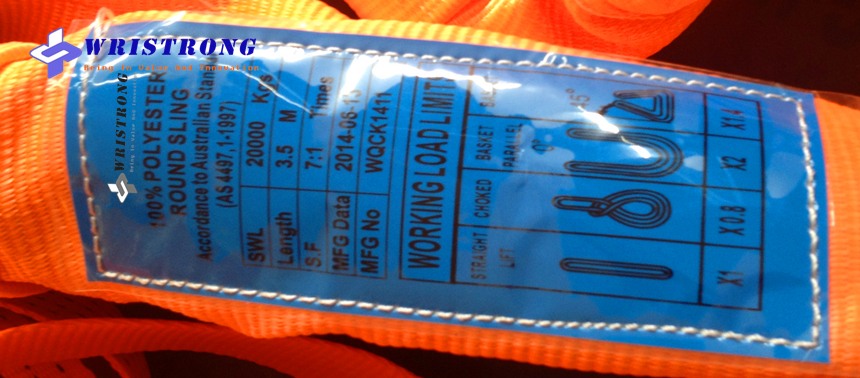 The Advanges of Polyester Made Slings:
1. High strength , high strength fiber of 5.6-8.0cN/dtex, due to low moisture absorption, its wet strength and dry strength are basically the same. Impact-resistant strength is 4 times higher than nylon and 20 times higher than viscose fibers.
2. Exellent elasticity, elasticity close to wool, when elongated 5%-6%, almost complete recovery. Wrinkle resistance exceeds other fibers, that is, non-wrinkle, good dimensional stability. The elastic module is 22-141cN/dtex, 2-3 times higher than nylon.
3. Heat resistance, good water absorption, wear resistance than other natural fibers and synthetic fibers are better.
4. Good UV resistance, UV resistance is second only to acrylic.
5. Corrosion-resistant, can be resistant to bleach, oxidants, hydrocarbons, ketones, petroleum products and inorganic acids, not afraid of mold.
Other Related Lifting Round Slings: