Endless Polyester Round Sling 3Tonne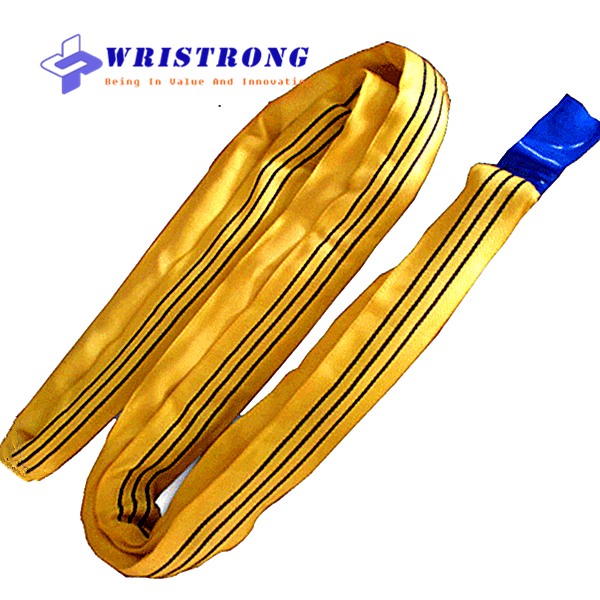 Please Note:
If you have any special requirements, you can contact us bellow and we will reply you as soon as possible.
Request A Quote
Product Specification:
Endless Polyester Round Sling  WLL 3Tonne | Wristrong Sales
Australian EN 1492-2 & AS 4497 standard polyester round slings from China manufactuer-Wristrong Industry
WLL 3 Tonne(3000kgs) endless polyester round slings are manufactured according to EN 1492-2 & AS 4497, with a unique label, color and W.L.L stripe numbers on the surface, to distinguish the lifting capacity, even if the polyester round sling is broken, it is also  easy to recognize the performance of flexible lifting  sling superior. The outer sleeve does not laod any weight and only provides protection, and when used, the internal carrier core is flat to provide a safe, loaded grip to provide wear resistance and extend service life . The endless poylester round sling 3 tonne a versatile, convenient, and cost-effective tool to lift  a variety of cargo. 3Tonne polyester round sling is alos the most popular type of lifting slings in the lifting markets. Wristrong Made polyester round slings only use double ply sleeves: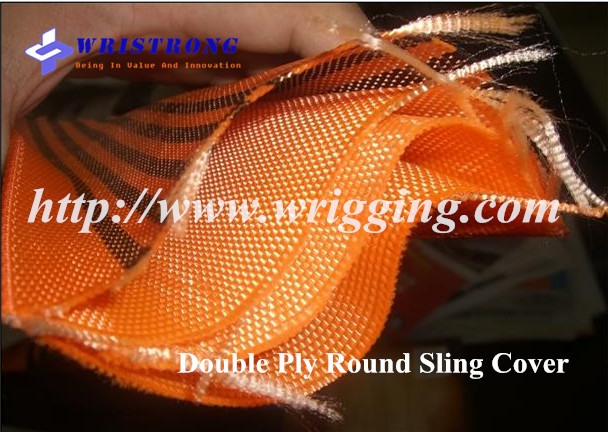 Features of Wristrong 3 Tonne Polyester Round Slings:
-Manufactured to EN 1492-2 & AS 4497
-Safety Factor: 7:1, and other safety factors are also available.
-W.L.L : 3Ton/3,000KGS.
-Color: Yellow Colour with 3 black stripes on sleeve.
-could choose special length base on special requirement.
-SGS Tensile strength test report available on request
-Made from 100% AAA Grade well-selected polyester yarn
-Real Break strength always exceeds that in theory.
-With protective sleeves also available.
-One Year Quality Warranty On Factory Defects
-Free Sample available on the round slings W.L.L under 10Ton
-Traceable labels available on request.
-Factory test certificate for each sling
-Competitive prices
China Wristrong is the factory with 5000sqm weaving house and 2000sqm round slings production house, which help us produce round slings upto 10X20FT containers every month.We are the manufactuer, so buy directly from us, we will save the middle-channel costs. Wristrong Industry is the manufacturer for round slings, as well as the quality, service and prices, so there is no reason for customers to buy from the middle channels.
China Wristrong has always been in pursuit of 100% customer satisfied quality, the principle has been run throughout every lifting slings production process. Zero Factory Defect is our target: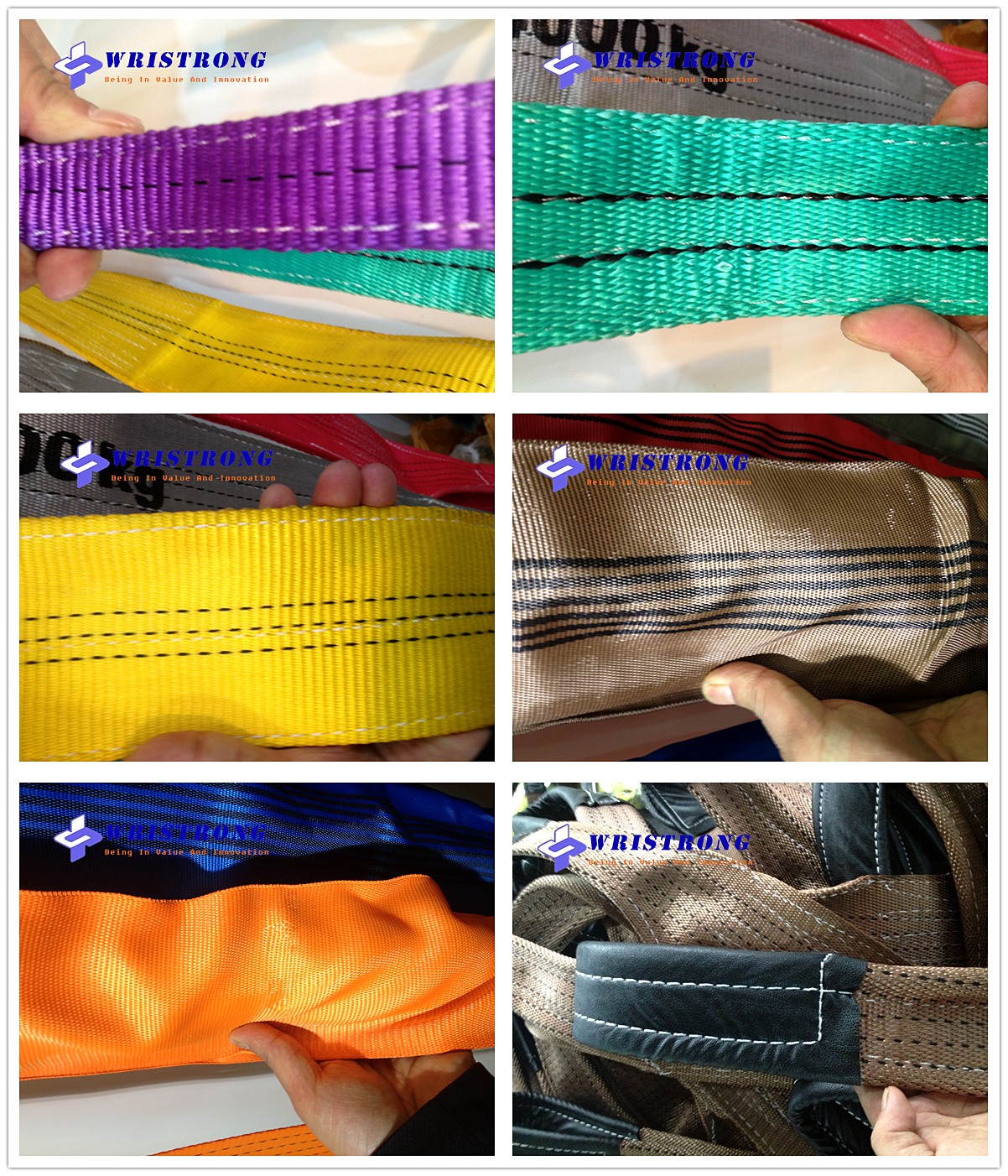 Specification On Wristrong  EN 1492-2 & AS 4497 Polyester Lifting Round slings: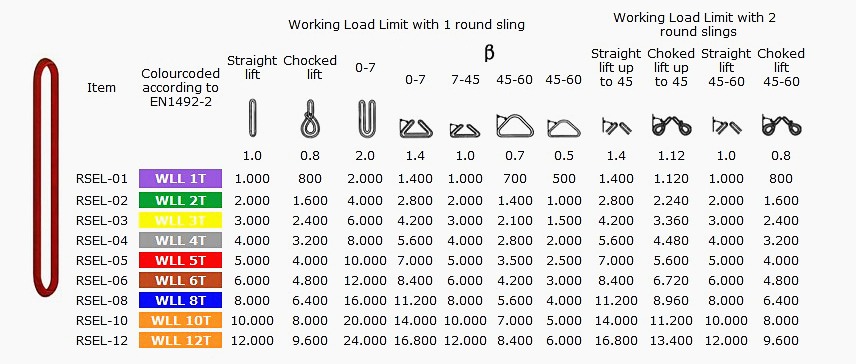 The Advanges of Endless Polyester Round Slings:
1. Suitable for round objects lifting.
2. The strength of the weight is relatively high.
3. Flexible sling lifting methods and equally shared lifting force to make the polyester round slings long service life.
4. Can also be used to drag the hanging object.
5. Can be attached with anti-wear and anti-cut protective sleeves.
6. No conductivity, no risk of electric shock.
7. The softness of the polyester round slings could protec the smooth surface of some objects and prevent. fragile objects from damaging druing lifting hand transporting.
8. Light and soft, also easy to use in a small space.
9. W.L.L available 0.5-500 tons, effective length of 0.5-80 meters.
10. Manufactured to ASME/ANSI B30.9 & WSTDA-RS-1,EN 1492-2 & AS 4497.
11. Low elongation ,W.L.L operating load elongation rate < 2%, M.B.S breaking load elongation rate < 12%.
12. The use of the temperature range from - 40  ℃ to 180  ℃.
13. the safety factor is 7:1 acc. to EN 1492-2 & AS 4497, 6:1 acc.to China's industry standard JB /T8521-2007, 5:1 acc.to USA ASME/ANSI B30.9 & WSTDA-RS-1.
Other Related Lifting Round Slings: