Polyester Round Sling 20Ton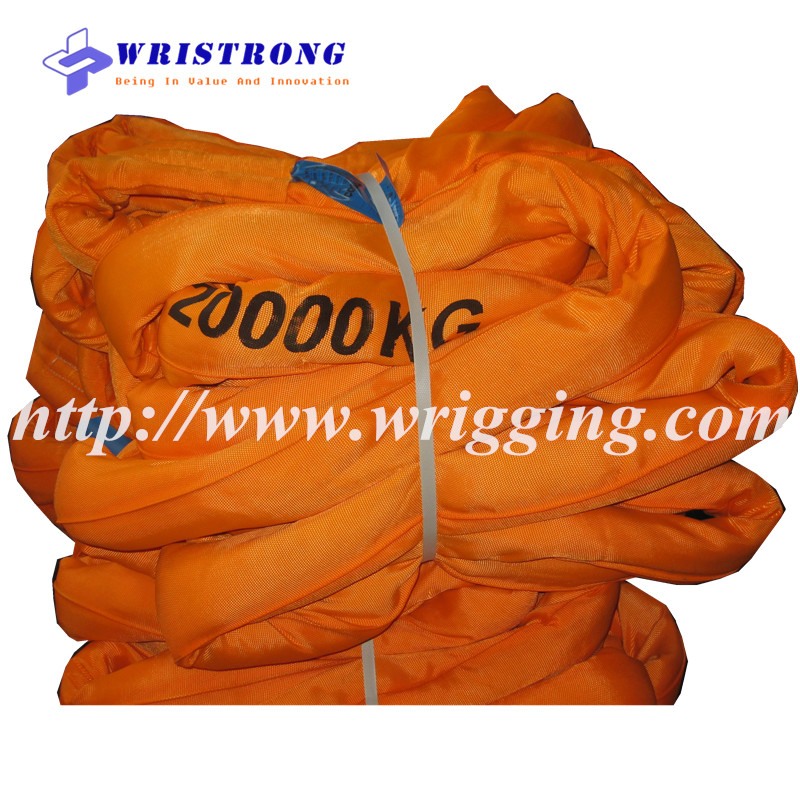 Please Note:
If you have any special requirements, you can contact us bellow and we will reply you as soon as possible.
Request A Quote
Product Specification:
Polyester Round Sling  20Ton For Australian/New Zealand
Australian AS4497 standard polyester round slings from China manufactuer-Wristrong Industry
A polyester round sling is a versatile, convenient, and cost-effective way to lift a variety of cargo. Wristrong Industry can produce polyester round slings acc to EN 1492-2 & AS 4497 upto 500T for both European & Australian/New Zealand market. Wristrong guaranttees most competitive prices at the highest possible quality level.  Wristrong Made polyester round slings only use double ply sleeves: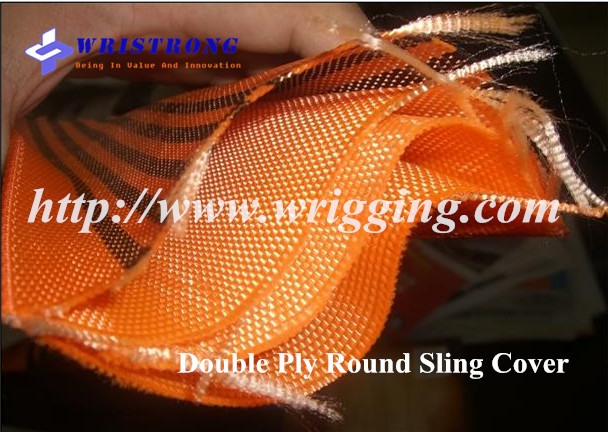 Features of Wristrong 20Ton Polyester Round Slings:
-Manufactured to AS 4497(Australian Standard)
-Safety Factor: 7:1, and other safety factors are also available.
-W.L.L : 20Ton/20,000KGS.
-Color: Orange
-could choose special length base on special requirement.
-SGS Tensile strength test report available on request
-Made from 100% AAA Grade well-selected polyester yarn
-Real Break strength always exceeds that in theory.
-With protective sleeves also available.
-One Year Quality Warranty On Factory Defects
-Free Sample available on the round slings W.L.L under 10Ton
-Traceable labels available on request.
-Factory test certificate for each sling
-Competitive prices
China Wristrong is the factory with 5000sqm weaving house and 2000sqm round slings production house, which help us produce round slings upto 10X20FT containers every month.We are the manufactuer, so buy directly from us, we will save the middle-channel costs. Wristrong Industry is the manufacturer for round slings, as well as the quality, service and prices, so there is no reason for customers to buy from the middle channels.
Wristrong Industry specializes in producing AS 4497 lifting round slings for Australian market. Capacity upto 500Ton. Heavy duty round slings is one of our most prefessional products, which is widely used in international lifting market.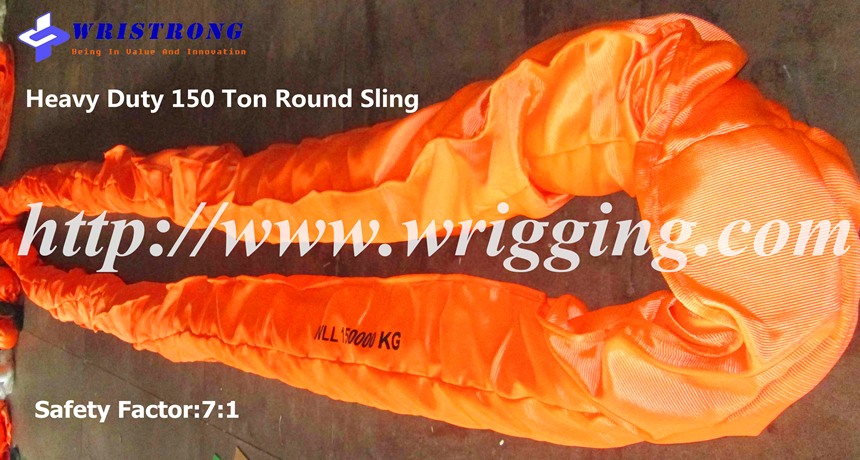 Specification On Wristrong  AS4497 Polyester Lifting Round slings: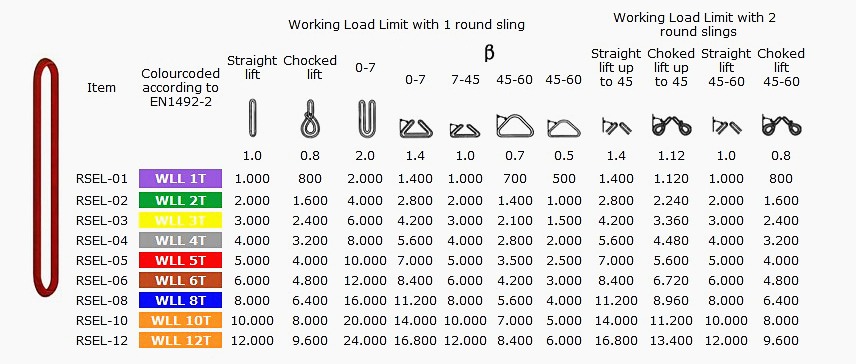 PS: Polyester Round Slings with W.L.L above 12Ton will be all orange color, and go without black stripes on the webbing surface. And the labelling, certificates and proof test rquirements should comply with EN 1492-2 & AS 4497 for sure.
Australian & New Zealand AS 4497 standard round slings requires traceable label on each polyester round sling. However,some times we are also required to provide normal label to dcrease the cost. Wristrong strongly advise the customers to use the traceable label on the round slings to totally comply with the AS 4497 standard. Bellow we just example out the two kind of labels we've ever produced before. Of course, Wristrong could produce other forma label to meet the customers' unique design requirements.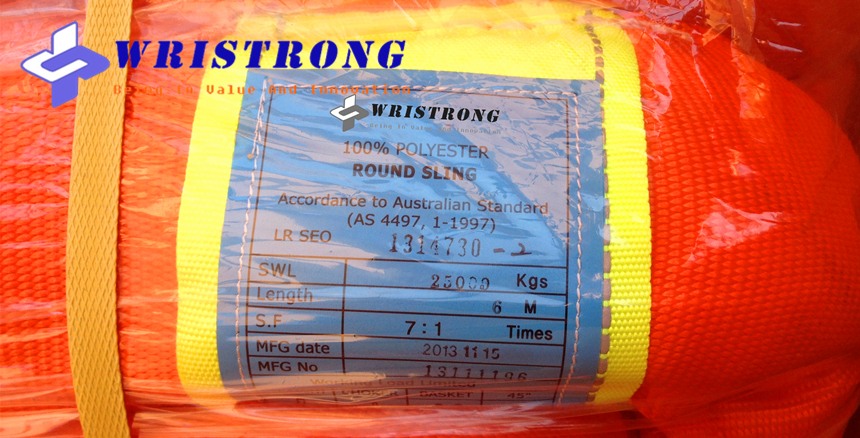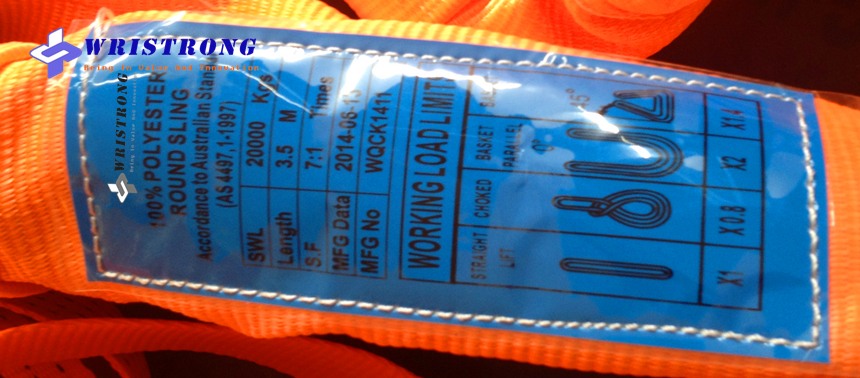 Using Polyester Round slings Safely
• Do not attempt lifting operations unless you understand the use of the equipment, the slinging procedures
and the mode factors to be applied.
• Do not use defective slings or accessories.
• Check for correct engagement with fittings and appliances, ensuring smooth radii are formed which allow the
sling to assume its naturally flattened form under load. Do not overcrowd fittings.
• Position the bight for a choke lift at the natural (120°) angle to prevent friction being generated.
• Keep labels away from hooks and fittings.
• Take the load steadily and avoid shock loads.
• Do not leave suspended loads unattended. In an emergency cordon off the area.
In-service Inspection and Maintenance On 100% Polyester Round Slings
Maintenance requirements are minimal. Roundslings may be cleaned with clear water. Remember weak
chemical solutions will become increasingly stronger by evaporation Regularly inspect roundslings and, in the event of the following defects, refer the sling to a Competent Person for thorough examination: illegible markings; damaged or cut outer cover; damaged stitching; exposed inner core; heat damage; burns; chemical damage
Other Related Lifting Round Slings: